For most people, breakfast is the most important meal of the day. It is the time for the body to receive a new boost of nutrients after a long overnight fast.
Breakfast is all the more important for athletes or bodybuilders to allow muscle gain and bulking in the right conditions. But eating a different protein-rich breakfast every day can be challenging.
In this article, we explain why it is important to have a protein-rich breakfast meal in the morning and give healthy (and delicious!) breakfast recipes for building muscle.
Why is it important to eat a protein-rich breakfast in the morning?
Eating protein for breakfast reduces hunger and appetite and provides energy throughout the day. It also stimulates your metabolism, limits cravings for carbohydrates, and helps maintain muscle mass.
Proteins are not only necessary for muscle gain and development, they also contain amino acids essential to the human body that it cannot produce itself.
Therefore, eating a protein-based breakfast is an excellent strategy for staying in shape and living a healthy lifestyle.
What should i eat for breakfast to build muscle?
You should start your day by eat high-rich proteins foods for breakfast. There are two kinds of proteins:
animal proteins
plant-based proteins
Animal proteins include eggs, fish, white meat, red meat, cheese, cottage cheese, and other dairy products.
Eggs are the highest quality animal protein! They are great for breakfast because they help lower the glycemic index of carbohydrate-rich foods.
Eggs are also a source of many key vitamins, such as Vitamin D, B12, and B6, as well as minerals like zinc, selenium, iron, and copper.
If you are a vegetarian, intolerant to animal proteins, or looking to balance your diet, plant-based protein sources can be an excellent alternative for you.
Pulses like lentils, chickpeas, and any kind of beans (+ soybeans, which are technically not a pulse) are great vegetarian sources of protein.
Oilseeds like almonds, peanuts (+ peanut butter), and walnuts are also great nutrient-rich foods to incorporate into your breakfast.
7 Healthy Breakfast for Muscle Gain
Sweet Bulking Breakfast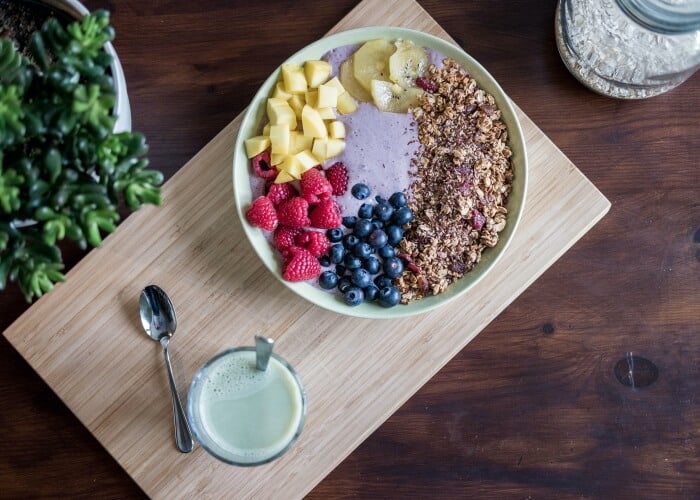 Getting up in the morning doesn't have to be so bad! Sweet start your day with this sweet bulking breakfast.
Ingredients
45 g rolled oats
200 ml low-fat milk or water
8 g sugar + vanilla extract
25 g strawberries, blueberries, or cherries
A pinch of cinnamon
100 g applesauce with no-added-sugar
20 g dark chocolate
125 g plain yogurt
Prep
Bring the milk or water to a simmer in a saucepan.
Reduce to medium heat, then add the sugar and vanilla extract and mix.
Add the rolled oats and mix until well incorporated.
Leave to cook for 8 to 10 minutes.
When you see that the mixture has become creamy, remove it from the heat.
Mix in the apple sauce and dark chocolate.
Add your choice of berries and a dash of cinnamon.
Serve with a side of plain yogurt and start your day like a champ!
Tips
Buy the least processed rolled oats possible. They're more nutritious.
Antioxidant turmeric and quinoa porridge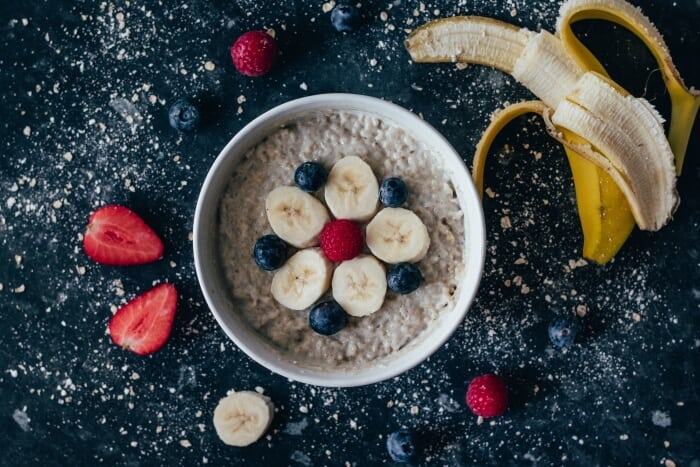 Try this savory porridge recipe to give your body a deep antioxidant breakfast. Start your day on the right foot with some turmeric and ginger!
Ingredients
50 g quinoa
125 ml of water
60 ml of plant milk (soy, almond, or rice)
A pinch of turmeric
1/2 teaspoon of minced ginger
Your choice of fresh fruit or antioxidant berries
Prep
Boil the quinoa with water in a saucepan for about 15 minutes.
Pour the quinoa into a bowl and add milk, turmeric, and ginger.
Serve with fresh fruit or some goji or blueberries to boost this porridge's antioxidant power.
Tips
Cook the quinoa until the water has been completely absorbed. If all the water evaporates before the quinoa is fully cooked, add a bit more water.
Nutritious coconut, chia seeds, and yogurt pancakes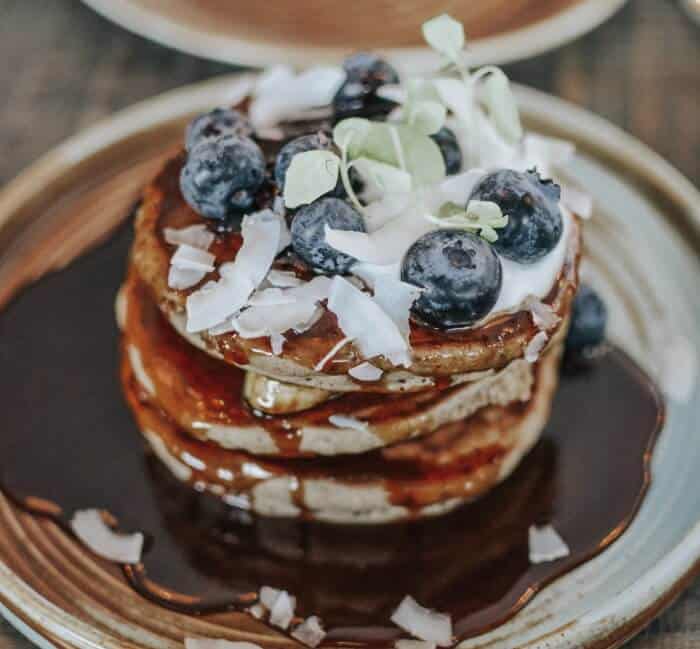 If you wonder what you should eat for breakfast to gain muscle mass, then these chia seed coconut yogurt pancakes are what you need!
Enjoy this nutritious, energizing breakfast and get ready to build some muscle!
Ingredients
10 g coconut flour
40 g rice flour
1/2 teaspoon baking powder
1 pinch baking soda
1 teaspoon chia seeds
45 ml of plant milk
80 g coconut yogurt
1 teaspoon apple cider vinegar
1 tablespoon maple syrup
1 teaspoon coconut oil
2 kiwis
Prep
Stir together the flours, baking powder, baking soda, and chia seeds.
Add the yogurt, plant milk, apple cider vinegar, and maple syrup. Stir well.
Heat up a frying pan with the coconut oil.
Ladle a generous spoonful of batter onto the middle of the frying pan and spread it out in a circle.
Let it cook for about 2 minutes on each side.
Slice up 2 kiwis and place them on top of the pancake. Enjoy!
Tips
If you don't like kiwis, just replace them with any kind of fruit you like.
The quick and easy breaky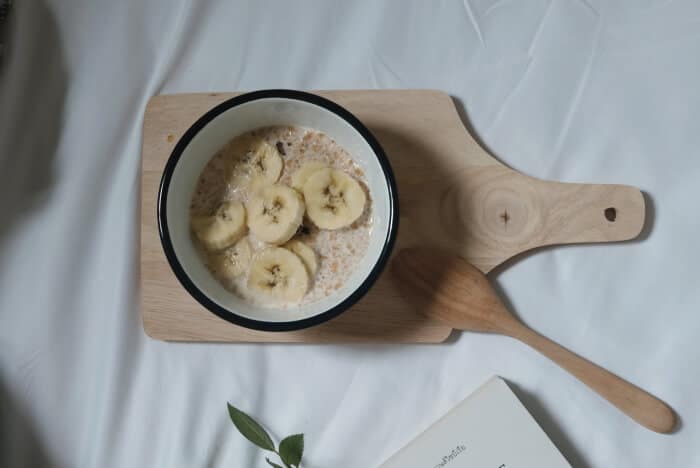 Are you always in a rush in the morning? You don't have much time to spend on preparing your breakfast? Then this quick and easy breaky is what you need.
Ingredients
350 ml low-fat milk
30 g muesli
1 banana
20 g almonds
Prep
Pour the muesli into a bowl, followed by the milk.
Serve it with almonds and a banana on the side. Easy as!
Tips
You can use walnuts or hazelnuts instead of almonds. Make a quick and energizing smoothie in a quiet blender to add delicious fresh fruits to your breakfast.
The easy muscle-building breaky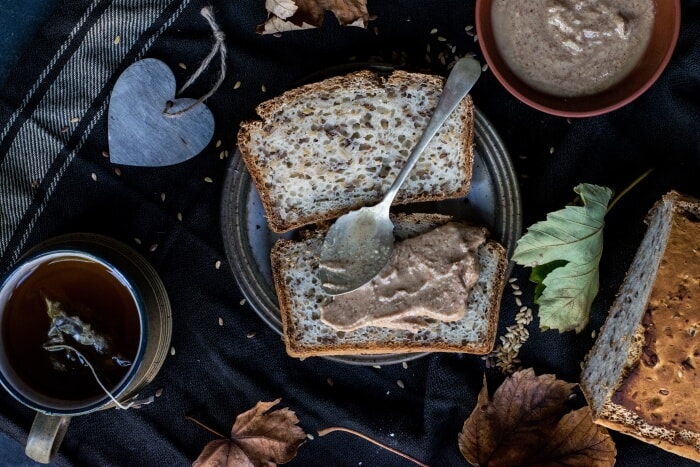 Pump up your muscles and gain real strength before the sun rises with the morning muscler.
Ingredients
30 g whole grain bread
100 g yogurt
10 g raisins
20 g chocolate chips
30 g peanut butter
Prep
Spread the peanut butter on the bread and top it with sliced bananas.
Stir the chocolate chips and raisins into the yogurt. Enjoy with some tea or coffee.
Tips
Love peanut butter?
Then why not make your own? It is super easy! All you need is a lot of peanuts and a mini food processor.
The lean & mean omelet with freshly pressed juice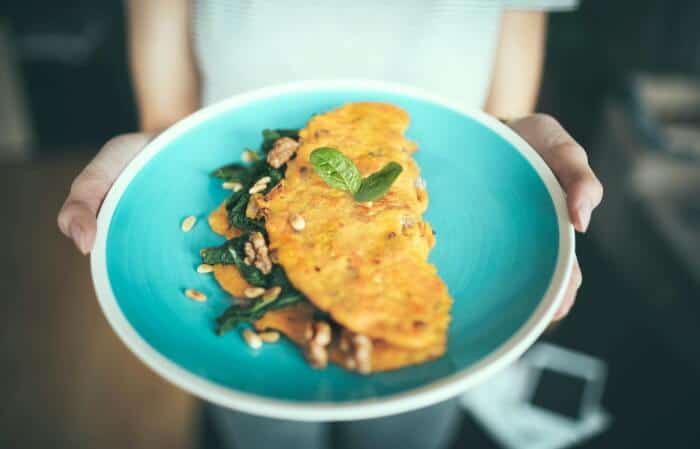 Say no to sugar and get down to business with the lean and mean omelet.
Ingredients
2 eggs
10 g walnuts
30 g whole grain bread
45 g cooked ham
2 oranges
1 lemon
Prep
Walnut omelet
Crack 2 eggs into a bowl, then season them with salt and pepper.
Beat the eggs, then add the walnuts.
Pour the mixture into a preheated frying pan.
Cook until the omelet is firm.
Top the bread with a nice slice of ham.
Orange and lemon juice
1. Squeeze 2 oranges and the lemon into a glass. Drink fresh.
Tips
Eggs are an amazing source of inexpensive, high-quality protein. Buy free-range eggs if you can afford it.
The rooster booster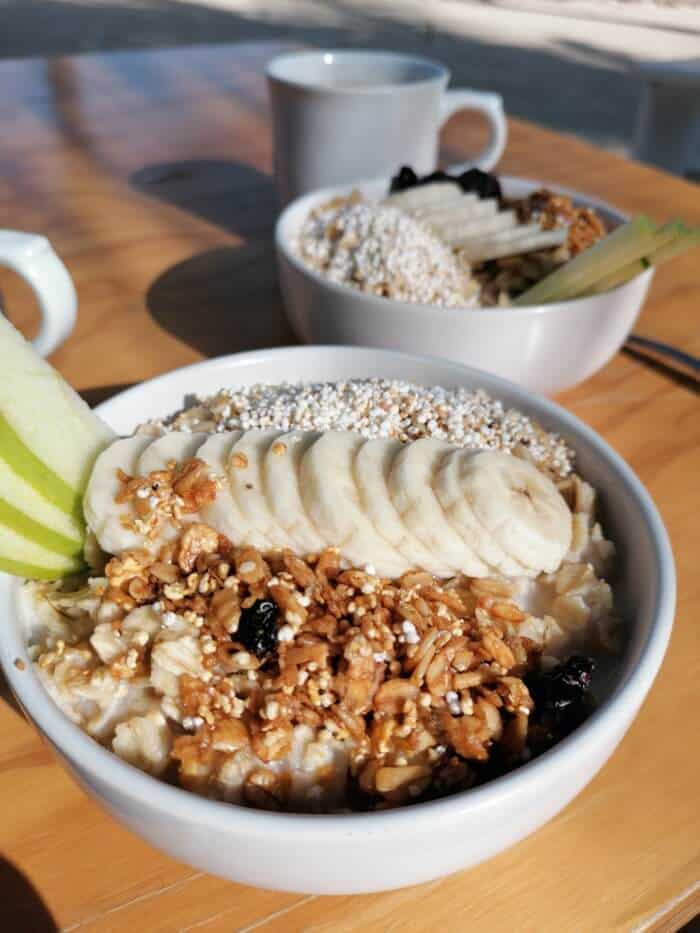 Cock-a-doodle-doo! Power up before going to the gym. The rooster booster has just what you need to reload your batteries.
Ingredients
40 g rolled oats
1 banana
45 ml low-fat milk
1 egg
6 g baking powder
1/2 apple
1 carrot
1/2 orange
5 g almonds
5 g of dark chocolate chips
Prep
Rolled oat bowl cake:
Mash the banana and mix it with the egg.
Add the rolled oats, milk, and baking powder.
Add the chocolate chips and stir all the ingredients together.
Pour the mixture into a bowl and cook in the microwave.
Remove the cake from the bowl and enjoy!
90% vitamin C juice:
Wash the carrots and apples, then cut them into large chunks.
Process them in a good juicer.
Peel the oranges and process them in the juicer as well.
Mix well. Serve chilled.
Tips
With the 90% vitamin C juice, not only do you get a significant amount of vitamin C, but also vitamins A and E.
Bonus: Strawberry-tart cherry juice to protect your muscles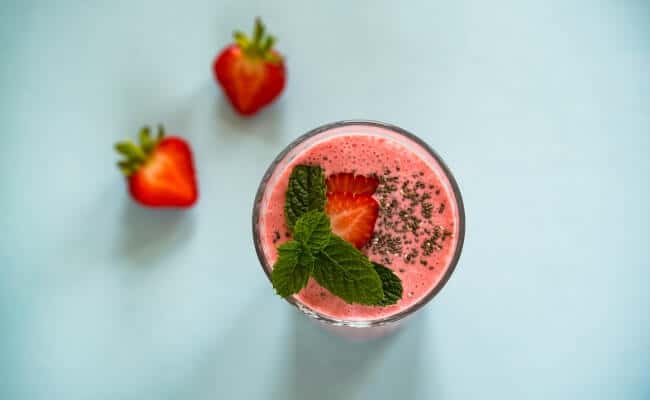 This delicious strawberry-tart cherry juice will protect your muscles, whether you're a bodybuilder working hard at the gym or a mountain cyclist spending hours on your mountain bike.
How?
Tart cherries are known to reduce oxidative stress and inflammation caused by exercise!
Ingredients
1 apple
2 cups pitted tart cherries
1/2 cup strawberries
2 celery sticks
1/2 peeled cucumber
1/2 peeled lemon
Prep
Cut the apple, cucumber, and celery sticks into smaller pieces (about 2 inches). Then process in your juicer together with the cherries, strawberries, and lemon. Drink fresh.
Tips
Drink this juice before your workout for maximum benefits. You can find more recipes for juice for muscle gain.