It's officially summer, and that means only one thing – it's smoothie season!
There's no better time than now to enjoy these nutritious drinks, as farmers' markets are packed with delicious fresh fruit, from strawberries and blueberries to peaches and apples.
If you're looking for simple sweet morning smoothie recipes, then you've come to the right place.
But first, let me tell you why you should have a smoothie every day!
Why are Energizing smoothies good for you?
Pump up your fruit and veggie intake
You know that you are supposed to get at least five servings of fruit and vegetables every day, but are you really getting them?
When you don't have time to cook healthy food with whole ingredients, it can be quite challenging to reach those five servings, right?
Well, having a smoothie for breakfast (or even a snack) will get you very close to that number and provide you with essential vitamins and minerals that your body needs to get through the day.
Can help with digestion
Smoothies are great for people with digestion issues when you include easily digestible fruits. Bananas, pears, melon, and berries are all excellent for the digestive system. Plus, since smoothies are liquid, most of the digestive work is already done for you, and the absorption of nutrients occurs quicker.
Including fermented foods like kefir can also help certain people digest their smoothies more easily.
Keep you hydrated
Smoothies contain a lot of water. Why? Because the fruits and vegetables you blend mostly consist of water. For example, a banana's composition includes 74% of water. It can be even more than 90% for watermelons and cucumbers.
As you can see, smoothies easily contribute to the 2 liters of water you are supposed to drink every day!
Protect your body against free radical damage
The fruits and vegetables you put in your smoothie are filled with antioxidants. These vitamins, minerals, and phytonutrients help protect against free radicals and the damage to cells that results from oxidation. With every sip you take, you help keep your body healthy!
How to Make a Healthy, Energizing Smoothie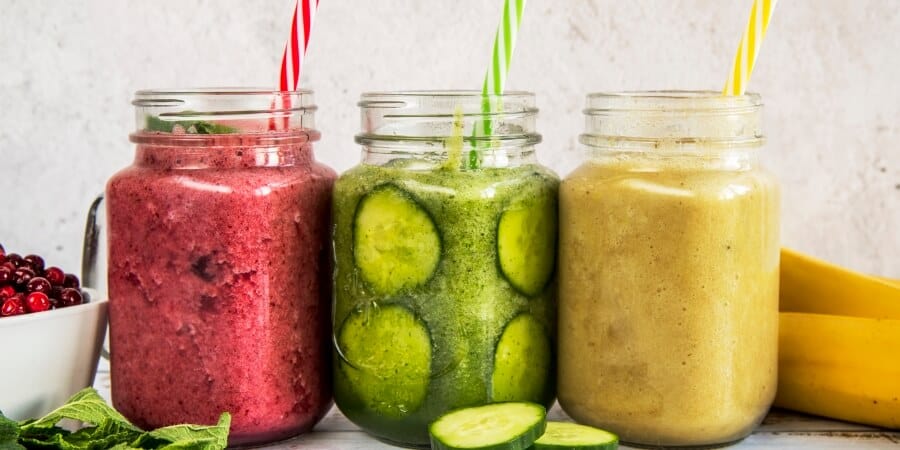 Now, smoothies can make a great breakfast, but only if you choose your ingredients wisely.
A drink made with fruits like bananas, mangoes, dates, or grapes is not very healthy as it's loaded with sugar and will send your blood sugar on a rollercoaster ride.
On the other hand, balancing the smoothie with low-sugar foods like berries, apples, and peaches, as well as adding protein and healthy fats, will turn it into a filling and nutritious drink.
Here are some things you could do to make your breakfast smoothies healthier:
Skip the juice and use other liquids like water, milk, or milk alternatives.
Don't add any sugar or sugar alternatives like honey or agave syrup.
Choose berries, apples, peaches, grapefruit, and other low-sugar foods over high-carb ones like grapes, mangoes, and figs.
And to boost the nutritional content of your smoothies, try adding these ingredients:
Nuts, seeds, peanut or almond butter, and high-protein dairy products for protein and fat.
Protein powder, sprouts, and oats for protein.
Frozen spinach (previously cooked), and kale for extra vitamins and minerals.
Cinnamon, cardamom, nutmeg, raw cocoa, and vanilla extract for extra flavor.
Now that you know all of the benefits of drinking smoothies for breakfast and how to make your blends healthier, it is time for the energizing smoothie recipes!
6 Energizing Sweet Smoothie Recipes
All of them produce two servings, and their prep time is five minutes or less. They are super easy to make, too: just throw everything in your blender and mix until smooth.
Just keep in mind that these recipes are only simple bases – you can (and should) add whatever other ingredients you like to balance the drinks and turn them into nutritious and filling breakfast blends!
1. Strawberry Banana Smoothie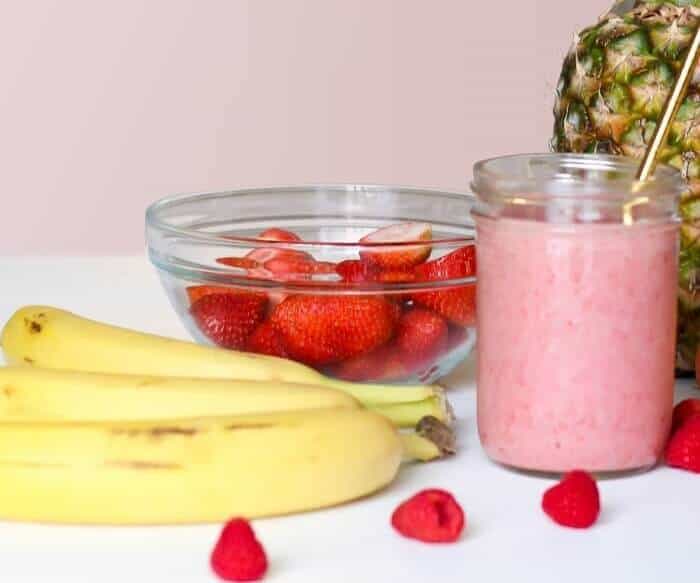 This classic strawberry banana smoothie is my long-time favorite and perhaps one of the most versatile recipes on this list. No matter what else I throw in the blender, it always tastes good!
Ingredients:
2 cups of fresh strawberries, halved
1 banana, quartered and frozen
1/2 cup of Greek yogurt
1/2 cup of milk
Tips:
Greek yogurt is thick and creamy, but you can use plain yogurt in this recipe as well.
If the smoothie comes out too thick, add more milk. If it is too thin, add more fruit or a little bit of ice.
Strawberry banana smoothie calories: about 270 kcals per serving.
2. Strawberry Blueberry Banana Smoothie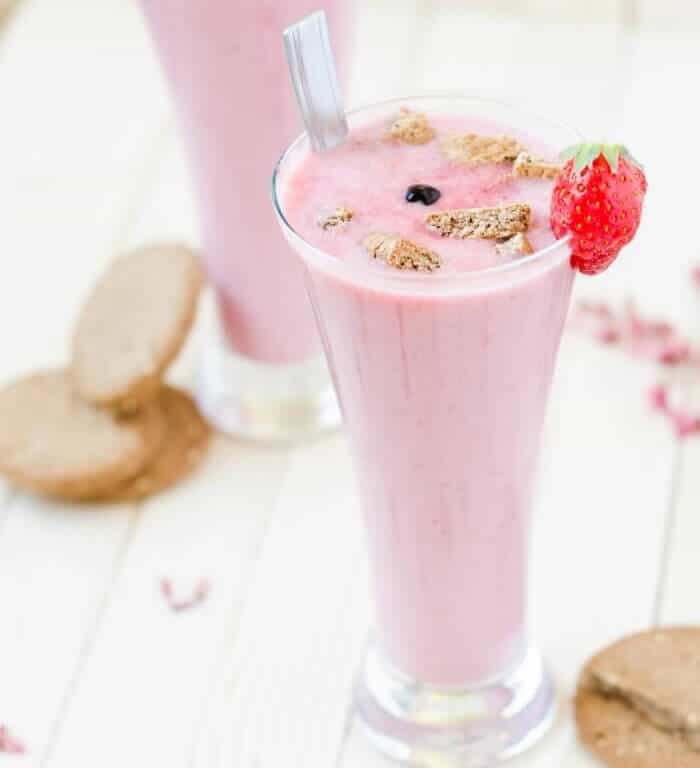 Another classic summer smoothie that tastes best when made with fresh ingredients. Freeze some of the fruits ahead of time to give the drink a frosty chill.
Ingredients:
1 cup of fresh strawberries, halved
1/2 cup of blueberries, fresh or frozen
1 small frozen banana, sliced
1 cup of vanilla yogurt (or plain)
1/2 cup of milk
Tips:
Start by adding just half of the milk, then adjust to get the consistency you like.
Strawberry blueberry banana smoothie calories: about 210 kcals per serving.
3. Blueberry Smoothie Without Yogurt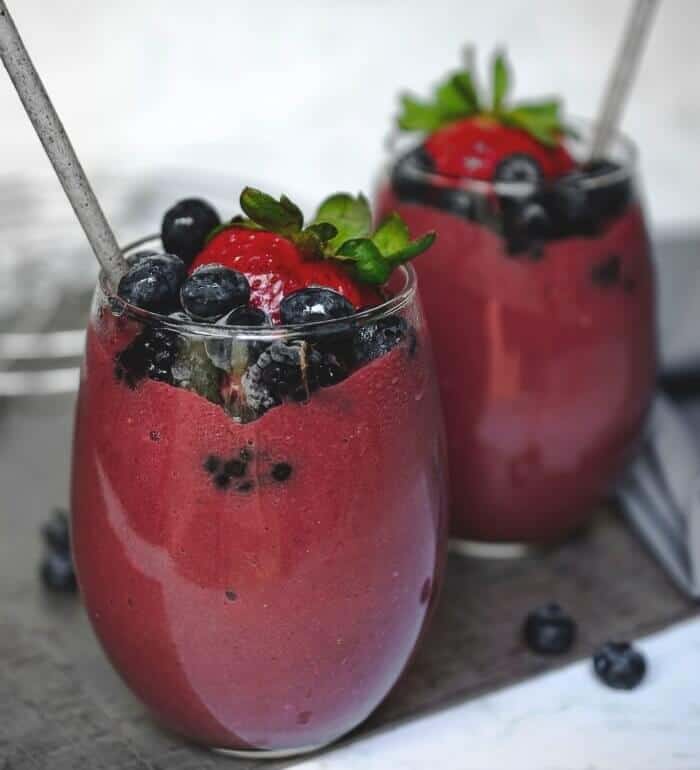 This blueberry smoothie without yogurt is a great option if you can't or don't want to have dairy in your diet. It substitutes yogurt for coconut milk, which gives the smoothie a floral, nutty flavor!
Ingredients:
2 cups of fresh blueberries
1 cup of coconut milk
1/2 to 1 frozen banana to add extra thickness
Tips:
If you don't like the flavor of coconut, you can use soy, cashew, or almond milk to make a dairy-like blueberry smoothie.
Or you can simply add other fruits like frozen peaches or pineapple for a more exotic yet thick blend. Mix with water to lower the sugar content.
Blueberry smoothie with coconut milk calories: about 250 kcals per serving.
4. Strawberry Banana Apple Smoothie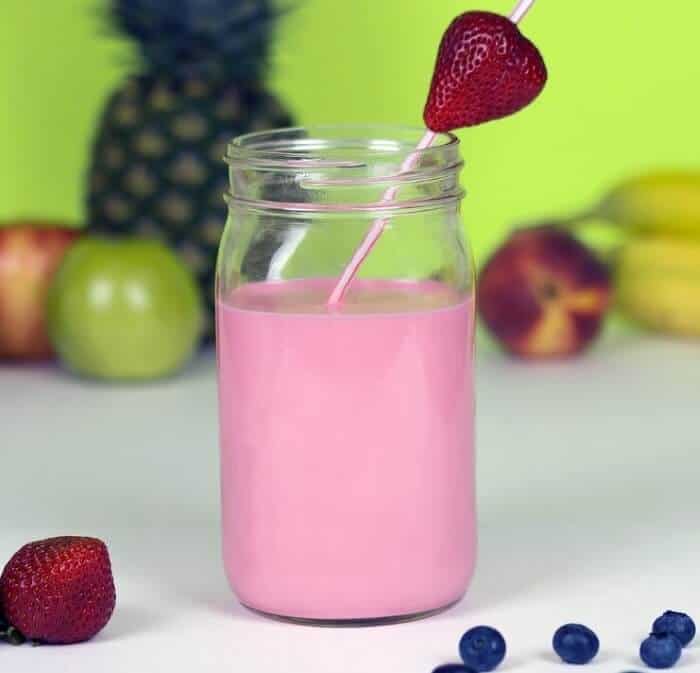 Strawberries are my favorite smoothie ingredient! When they are in season, I use them fresh, other times, frozen fruits work just fine. This recipe adds an apple to the otherwise classic strawberry banana smoothie.
Ingredients:
1 cup of strawberries, fresh or frozen
1 banana, sliced and frozen
1 apple, cored and peeled
1/2 – 1 cup of milk
1 cup of Greek yogurt
Tips:
If you use all frozen fruit, you probably have to add more milk, or your smoothie will come out too thick. Start by adding 1/2 cup of milk at first and then add more if needed to get the desired consistency.
Strawberry banana apple smoothie calories: about 330 kcals per serving.
5. Strawberry Banana Peach Smoothie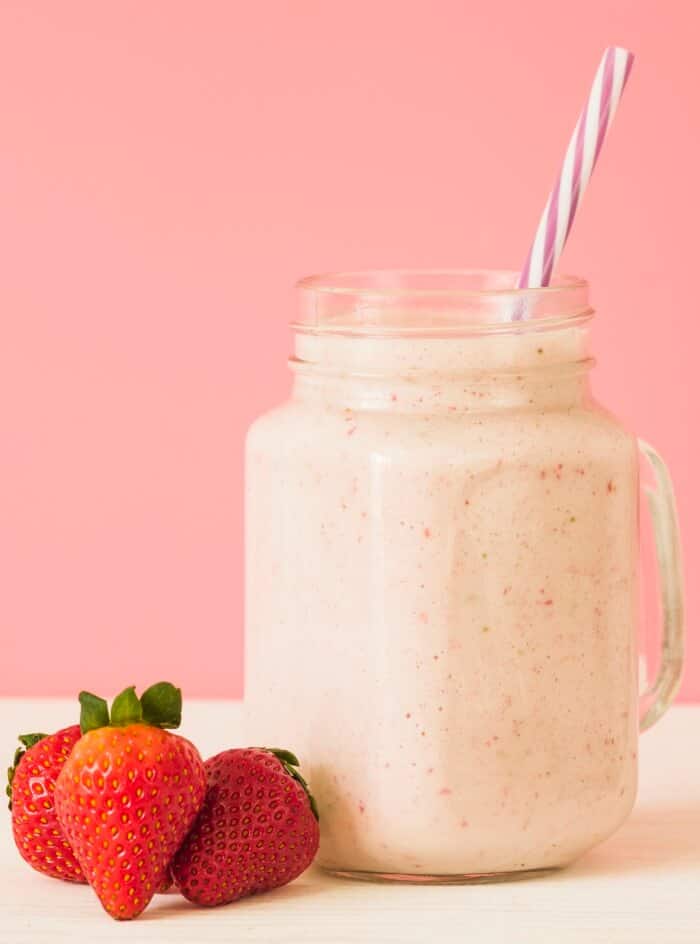 Yet another simple but delicious smoothie with a strawberry base. This one has a bit more exotic taste due to the tangy peaches.
Ingredients:
1 cup of frozen strawberries
1 banana
1 peach
1 cup of milk
Tips:
Start by adding half of the milk, then check for consistency and adjust as needed.
If you want a more liquid smoothie, let your strawberries thaw before blending or use fresh strawberries instead.
Add a dash of vanilla extract and a pinch of cinnamon for extra flavor.
Strawberry banana peach smoothie calories: about 230 kcals per serving.
6. Banana Peach Smoothie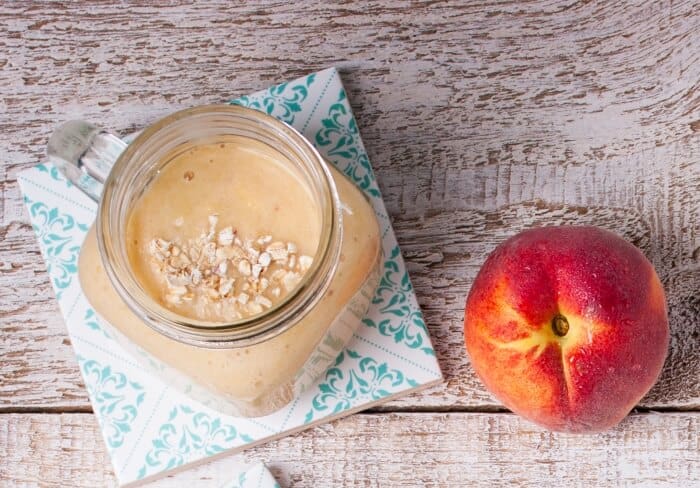 This yummy banana peach smoothie is a great summer drink if you're looking for something tangy and sweet. The recipe uses fresh fruits, but you can freeze them for a few hours to get a nice frosty texture.
Ingredients:
1 banana
1 medium peach, pitted, sliced
1 cup of Greek yogurt (or plain)
1/4 cup of orange juice
Tips:
Frozen bananas and peaches add more texture and thicken the smoothie.
If you use fresh fruit, add a couple of ice cubes to chill the smoothie and make it a little bit thicker.
Orange juice adds a tangy flavor, but you can skip it if you want to lower the smoothie's sugar content.
Banana peach smoothie calories: about 240 kcals per serving.
Final Tips
Use milk alternatives to make your smoothies dairy-free/vegan
Soy, cashew, and almond milk all taste great in these smoothie recipes. Coconut milk is also a good option, but don't add any other fats when using it.
Use a mix of frozen and fresh fruit
Using all frozen fruit will most likely give your smoothie a super thick texture. I prefer freezing bananas and using other ingredients fresh.
Don't add (too much) ice
If you use frozen ingredients, then they should be enough to keep your drink cold without watering it down. If you only use fresh fruits, you can add a couple of ice cubes, but keep in mind ice will make your smoothie watery pretty quickly.
Get a good blender
Now that you are all ready to start drinking fresh smoothies every day make sure your quiet blender is also up to the task. Don't be scared to invest in a good smoothie blender – you're more likely to use it!
Wrapping It Up
Smoothies are a great breakfast option as they are full of essential vitamins, minerals, and antioxidants. And if you add macronutrients like proteins and fats, they can even replace meals on busy summer mornings.
These six smoothie recipes are all family-friendly – just play with different ingredients to boost their nutritional content and flavor.
Now I would like to hear from you. What are some of your favorite smoothie recipes?