As our lives are increasingly busy, eating a healthy lunch is not always a priority, but making time for a filling and nutritious meal can pay off both physically and mentally.
Eating in the middle of the workday provides your body with essential fuel and keeps you refreshed, energized and ready to tackle the rest of your day.
Now, if you're ready to give up the quick but unbalanced on-the-go lunches at work, you might be looking for healthy easy lunch ideas. You've come to the right place!
I know how time-consuming finding ideas for healthy make-ahead lunches can be, so I thought I would share some of my favorite recipes with you.
Here is a compilation of 21 healthy packable lunches that are delicious, quick to make, and easier on the wallet than eating out all the time.
Bon appétit!
Healthy Lunch Bowls
Spicy Chicken Meal-Prep Bowls by 'Primavera Kitchen'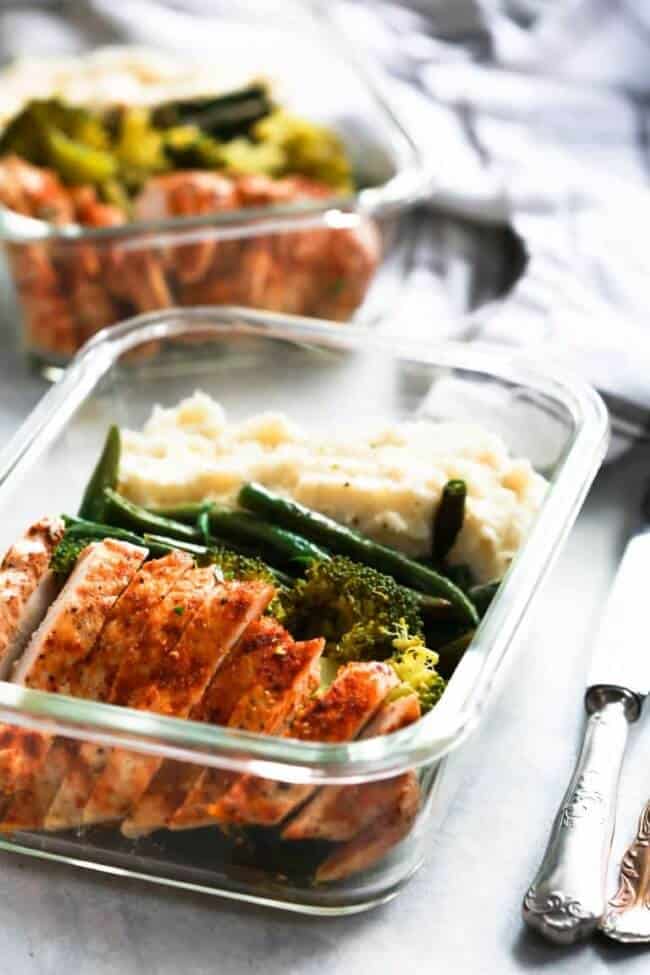 Quick overview
Whole30, paleo-friendly, gluten-free hot and spicy roasted chicken with low-carb roasted vegetables.
Why we love it
It's a flavorful dish that's quick and easy to make. The original recipe uses low-carb veggies such as broccoli and cauliflower, making it the perfect keto meal. If you're not doing keto, you can use whatever vegetables you like to reach your nutrition/macro goals.
About the author
'Primavera Kitchen' is run by Olivia, a native Brazilian now living in Canada with her husband and son. She focuses on low-carb, paleo, whole30 dishes that are influenced by her Brazilian roots.
Firecracker Chicken Meal Prep Bowls by 'Sweet Peas & Saffron'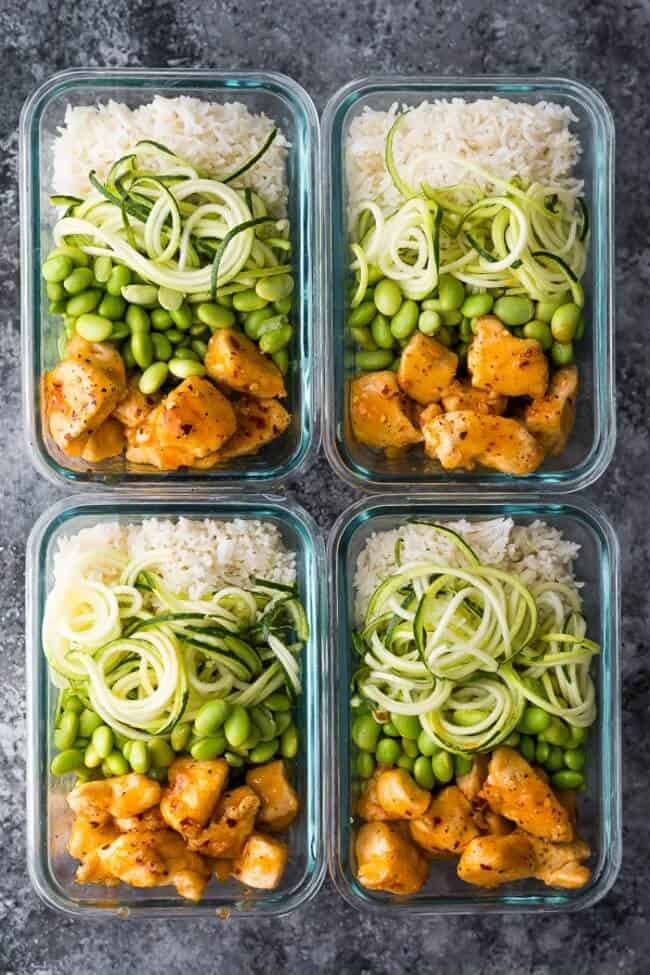 Quick overview
A healthy version of the Chinese takeout staple Firecracker Chicken with rice, edamame, and zucchini.
Why we love it
The sweet and sour chicken tastes absolutely amazing and just like the real thing! Although originally served with zucchini and edamame, it's a versatile dish that can be easily turned into a low-carb, paleo, or vegan meal with just a few simple swaps.
About the author
'Sweet Peas & Saffron' is run by world-traveler Denise who now lives in Calgary, Alberta with her partner and two children. Her site focuses exclusively on meal prepping advice and healthy meal prep recipes.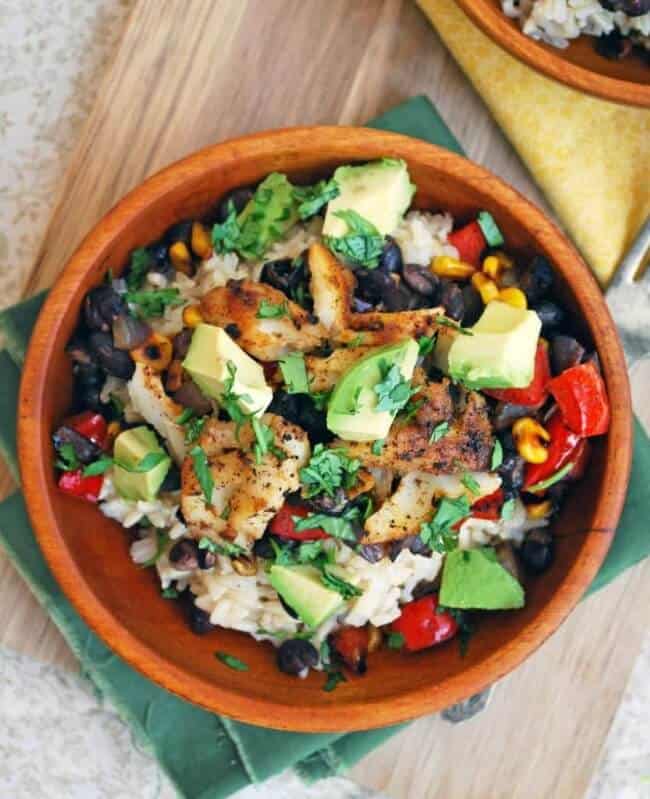 Quick overview
A gluten-free dinner or lunch bowl with spicy fish, avocado, fresh bell peppers, and brown rice.
Why we love it
We've never tried spicy fish before, but boy are we glad we did! This dish is super flavorful, and we absolutely love the combination of rice with avocado and fresh vegetables.
About the author
'The Live-In Kitchen' is the creation of Lindsay, a lone vegetarian in a house full of meat eaters. She has been focusing on meatless recipes since 2012, although you can still find several non-vegetarian recipes on the site. Expect to find simple and customizable recipes that can be easily adapted to different dietary needs.
Meal Prep Burrito Bowls by 'Free Your Fork'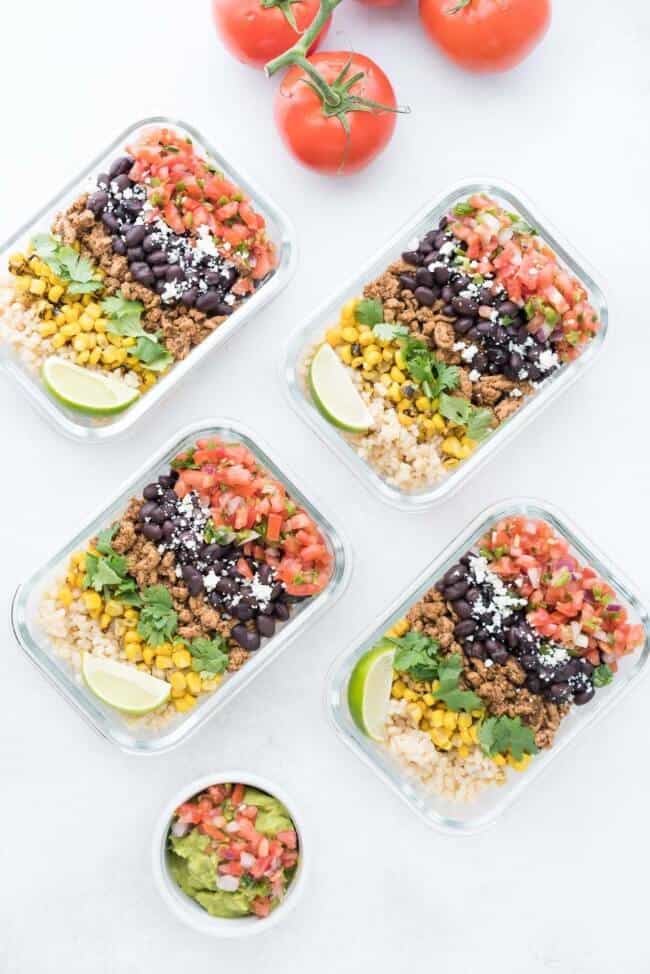 Quick overview
A high-protein, fiber-rich burrito bowl with lean turkey, black beans, whole grains, and healthy fats.
Why we love it
It's a healthier, more filling version of the otherwise calorie-loaded take-out favorite that can be easily prepared and stored for all your weekday lunches. And the whole thing takes less than an hour to cook!
About the author
'Free Your Fork' is a wellness site created by Lauren Kenson, Holistic Health Coach. The site has grown to be a great resource for healthy recipes, cooking tips, and healthy living info. Join Lauren's Facebook group if you too are curious and passionate about living well or tune in to her new podcast "Free to Thrive."
Grab a couple of glass food containers, they are freezer, microwave, oven, and dishwasher safe. Very handy for packing lunches!
Sale
M MCIRCO [5-Packs, 36 Oz Glass Meal Prep Containers with Lifetime...
5 PACKS GLASS MEAL PREP CONTAINERS: With 5 packs 36oz single compartment food Prep...
HIGH QUALITY BOROSILICATE GLASS:Our glass storage containers are made from high...
AIRTIGHT SMART-LOCKING LIDS: MCIRCO Glass food storage containers use snap lock lids...
FOOD GRADE SAFE & BPA FREE: Easy to use and easy to take care of, as it's safe in...
100% CUSTOMER SATISFACTION: If you receive cracked products or you are not 100%...
Healthy Cold Lunch Ideas
BLTA Wrap by 'Yummy Healthy Easy'
Quick overview
Easy-to-make bacon, lettuce, tomato, and avocado wrap that makes a perfect cold lunch.
Why we love it
It's super easy to make as it only needs five ingredients + sauces. A perfect cold lunch for adults and kids alike.
About the author
The founder of 'Yummy Healthy Easy' is supermom Jen who lives in Southern California with her husband and four boys. She shares simple recipes that are kid-approved and incorporate nutritious foods such as whole grains, fruits, and veggies.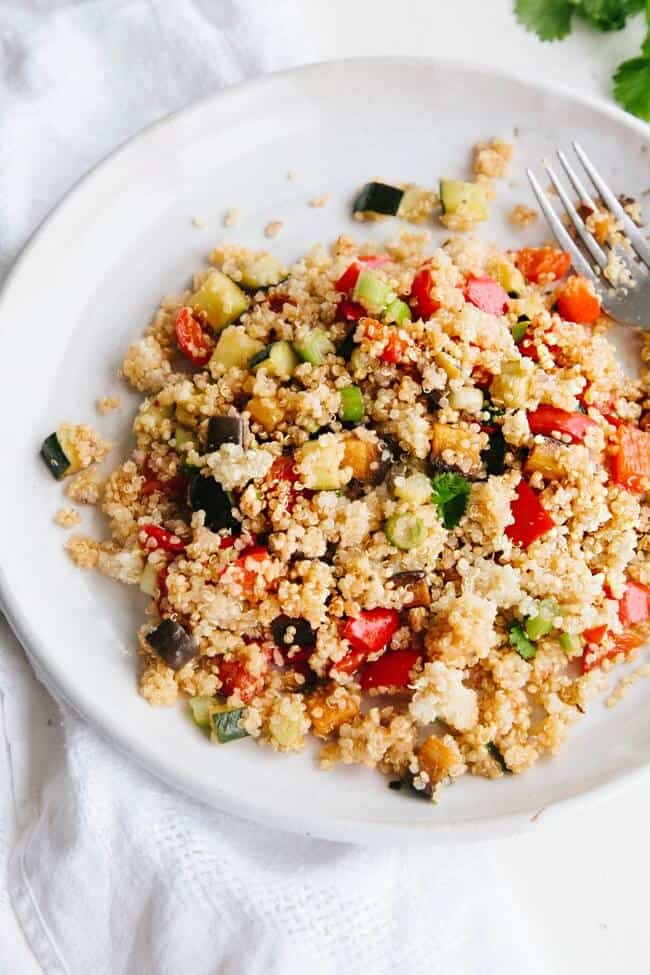 Quick overview
Gluten, dairy, and grain-free vegan quinoa salad with harissa-coated roasted vegetables.
Why we love it
We love dishes that taste yummy both hot and cold and this roasted vegetable quinoa salad mixed with tomato sauce is the perfect example! The recipe makes 2-3 servings and is another healthy make-ahead lunch idea. It's also a good base for more filling meals if you don't have any dietary restrictions.
About the author
Aimee is the young Brit behind the 'Wallflower Kitchen' blog. She's been sharing meat-free and vegan-friendly recipes since 2012. Follow her if you're looking to incorporate more plant-based meals in your diet.
Spicy Tuna Wraps with Homemade Chipotle Greek Yogurt Ranch by 'Ambitious Kitchen'
Quick overview
A spicy tuna wrap drizzled with homemade Greek yogurt ranch that's ready in just 10 minutes.
Why we love it
It's one of our favorite healthy low-calorie lunches to take to work! The wrap is super easy to put together despite its seemingly long ingredient list. Ditch the corn to turn it into a low-carb meal or add more nutritional punch with fresh veggies like cucumber, bell peppers, and carrots.
About the author
'Ambitious Kitchen' is run by an award-winning blogger Monique who has been featured on cooking sites like Huffington Post, Buzzfeed, and Self Magazine. She loves being creative in the kitchen, often pairing different flavor combinations and using unique ingredients. Expect to find lots of recipes of good-for-you meals, Spanish inspired dishes, and sweet treats.
Summer Veggie Pasta Salad by 'Life Made Simple'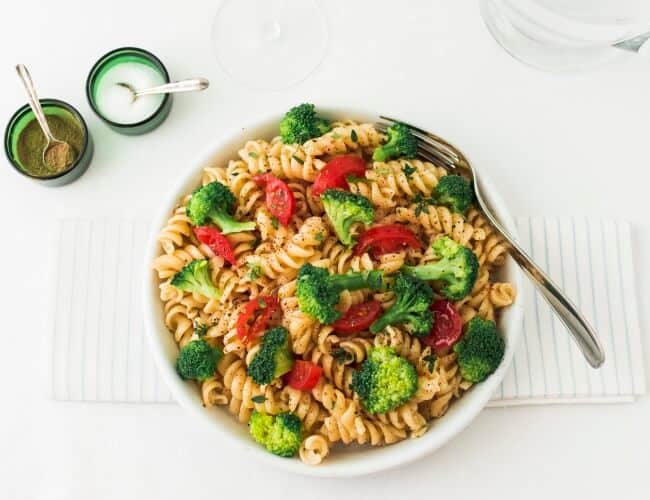 Quick overview
A colorful and delicious pasta salad loaded with lots of fresh vegetables and seasoned with Italian dressing.
Why we love it
It's a versatile summer salad that makes a perfect side dish for any BBQ party. Swap white pasta for the whole grain one and you got yourself a filling vegetarian lunch! The recipe uses summer vegetables, but you can add or remove whatever you like.
About the author
'Life Made Simple' is a recipe blog run by California born baker/writer/photographer Natalie, now residing in Virginia. She loves creating quick and easy recipes that use ingredients most people have in their pantry or fridge. Follow Natalie to get inspired by the numerous dessert recipes found on the site!
Healthy Salads for Lunch
Whole Wheat Greek Pasta Salad by 'Foodie Crush'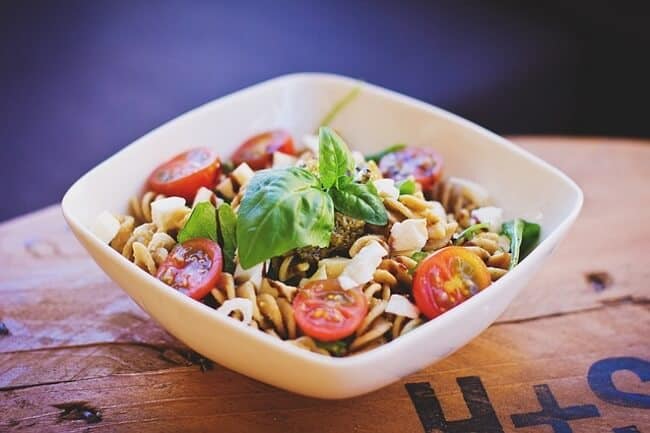 Quick overview
A Mediterranean-style pasta salad with fresh veggies, capers, and olives, topped with feta cheese.
Why we love it
It's a super filling yet still light lunch salad that's very quick to make. It's a perfect vegetarian dish, although it will taste great with canned tuna or slices of chicken breast.
About the author
'FoodieCrush' is run by Heidi, a former design magazine Creative Director who is now a full-time food blogger and recipe creator. Her recipes are simple and only use fresh seasonal ingredients, or how she put is: "recipes that feature real good, real food made for real people."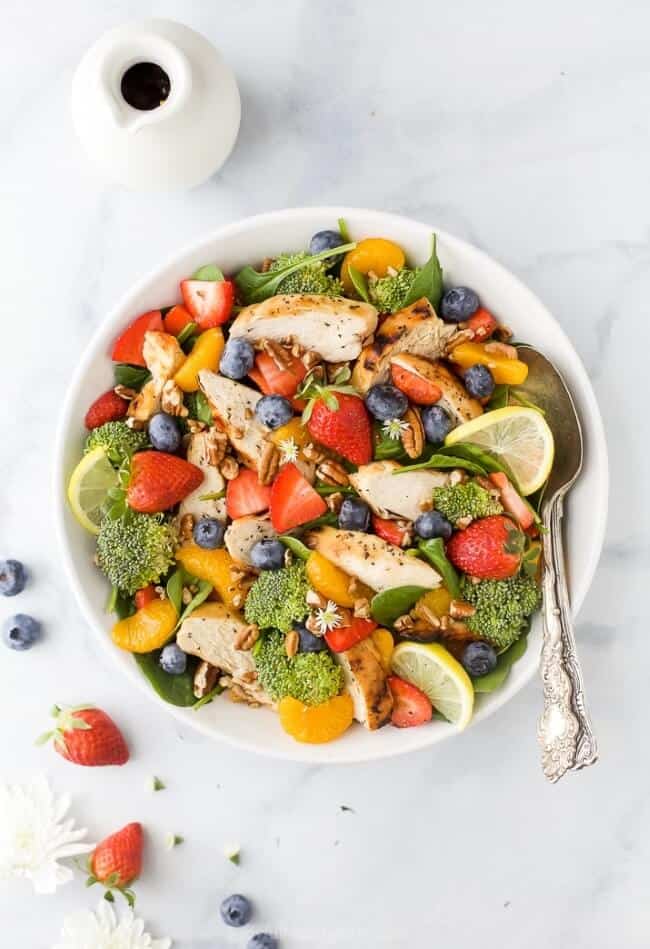 Quick overview
A super colorful and light chicken salad with surprise ingredients like strawberries, mandarins, and blueberries.
Why we love it
It's a nutrient-rich salad full of vitamin C, healthy fats, and lean protein. We were a little bit hesitant to try the unconventional combination of strawberries/mandarins and chicken breast/goat's cheese, but we ABSOLUTELY LOVED IT! It's now one of our favorite meals to serve to guests of all ages.
About the author
JoyfulHealthyEats.com is the creation of Krista, a recipe developer and food photographer who has been featured in Self Magazine, Greatist, Buzzfeed, and more. She focuses on family-friendly recipes that don't take longer than 30 minutes to make. Expect to find dishes in different categories such as paleo, vegan, gluten-free, etc.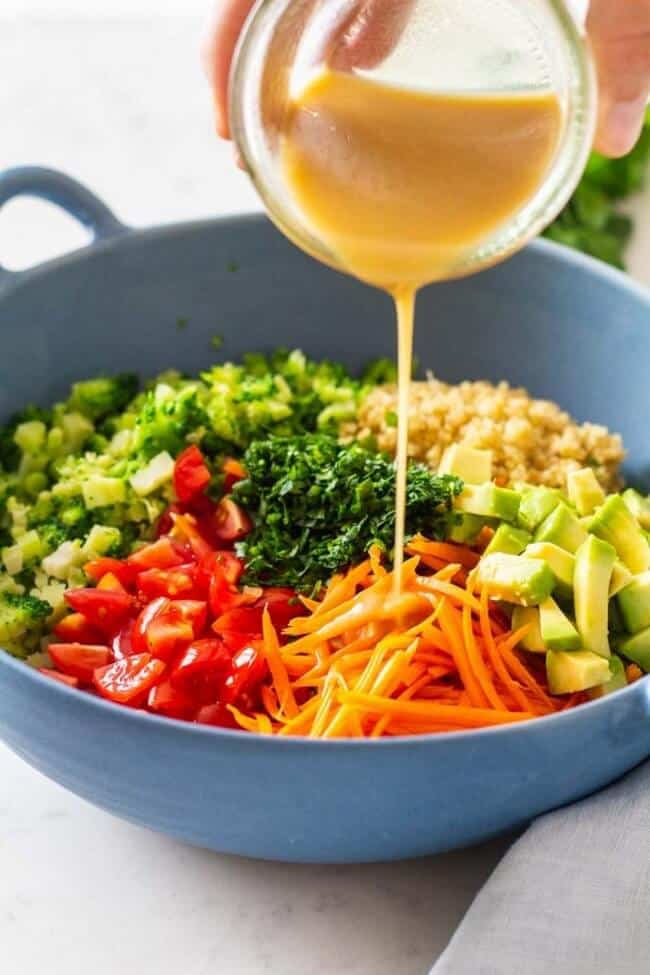 Quick overview
A quick and easy quinoa salad with raw and cooked vegetables, drizzled with honey mustard dressing.
Why we love it
Another healthy low-calorie lunch to take to work! We love this one because it's just so easy to make. The recipe comes with two options for dressings: simple lemon or a bit fancier honey mustard dressing. We know we never pass the opportunity to cook anything that requires honey and mustard!
About the author
'Green Healthy Cooking' is run by Lorena, a self-described globetrotter, natural living enthusiast, and the head chef in her family. She builds her meals around whole ingredients and encourages people to cook dishes from scratch. All recipes on the site are made out of 95% unprocessed foods, and most of them contain something green (think spinach, parsley, broccoli, asparagus).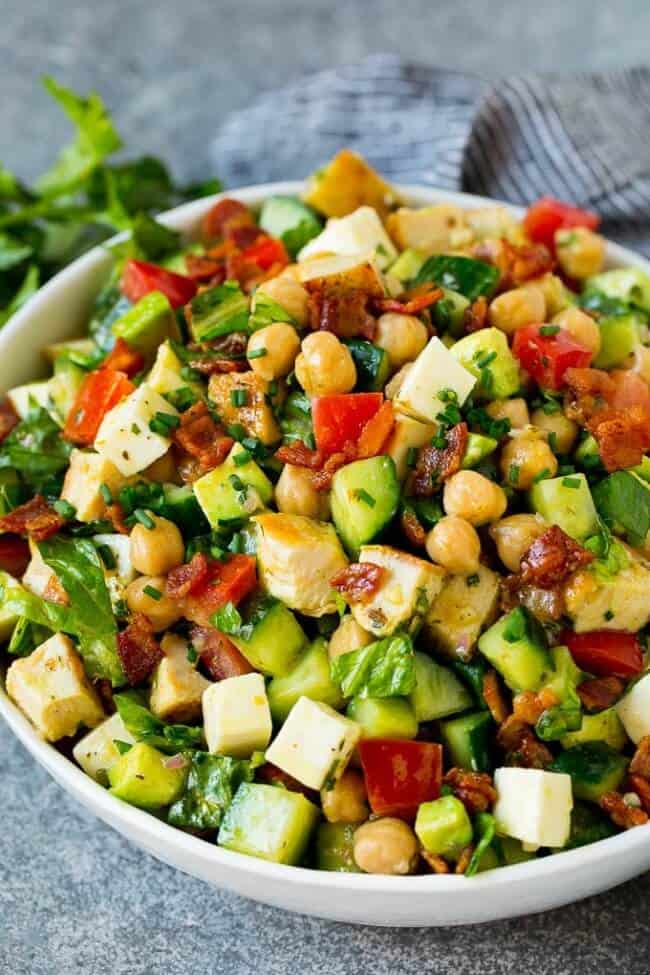 Quick overview
A protein-rich salad mix of chopped vegetables, grilled chicken, bacon, and chickpeas seasoned with homemade vinaigrette.
Why we love it
It's a scrumptious and flavorful salad that's perfect for people who prefer a filling lunch. We love the crunchy bacon combined with the soft avocado and mozzarella. We're also big fans of the homemade vinaigrette with shallots and herbs.
About the author
Sara launched 'Dinner at the Zoo' to share easy, healthy, kid-friendly recipes with busy moms around the world. She focuses on meals that can be prepped in advance and is a master at planning ahead. Follow Sara if you want to learn how to get your kids involved in the cooking process.
Mango and Curried Sweet Potato Salad by 'Loveleaf co'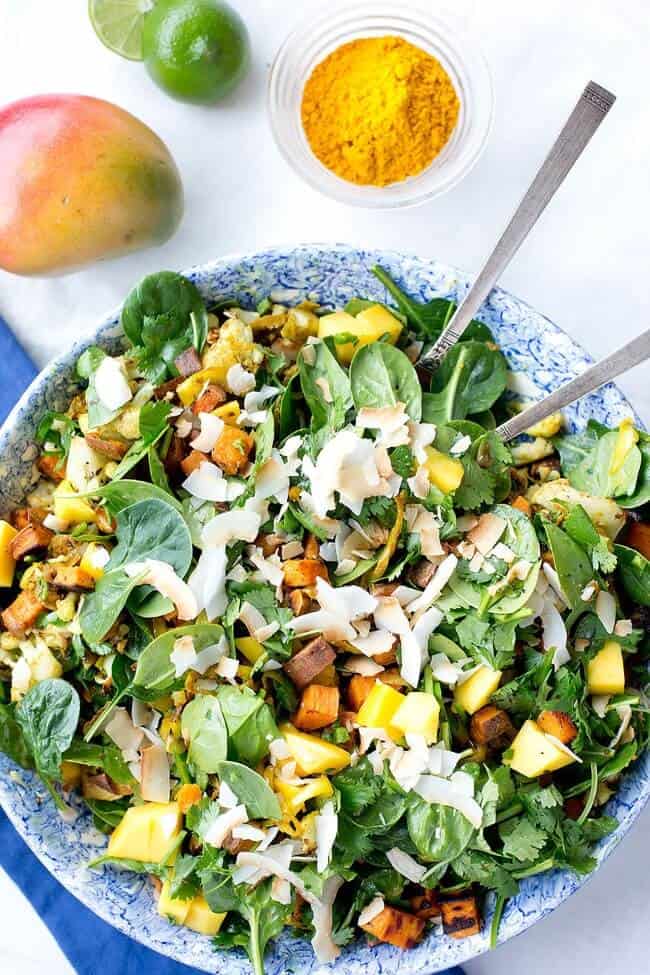 Quick overview
A delicious vegan mango and sweet potato salad with Indian-spiced coconut dressing.
Why we love it
We love anything with curry, and this spicy sweet potato salad is spot on! The recipe uses a lot of ingredients we normally don't put in our salads (like parsley and roasted cauliflower), but they taste absolutely amazing together. Bonus points for the homemade spice mix and coconut curry dressing.
About the author
'Loveleaf co' is run by Ally, a certified Nutritional Therapist based in Brooklyn, NY who's been featured on Brit + Co, Greatist, Woman's Day, and more. She focuses on sharing recipes for real, nourishing meals and hopes to help you simplify your relationship with food.
Healthy Vegetarian Lunch Recipes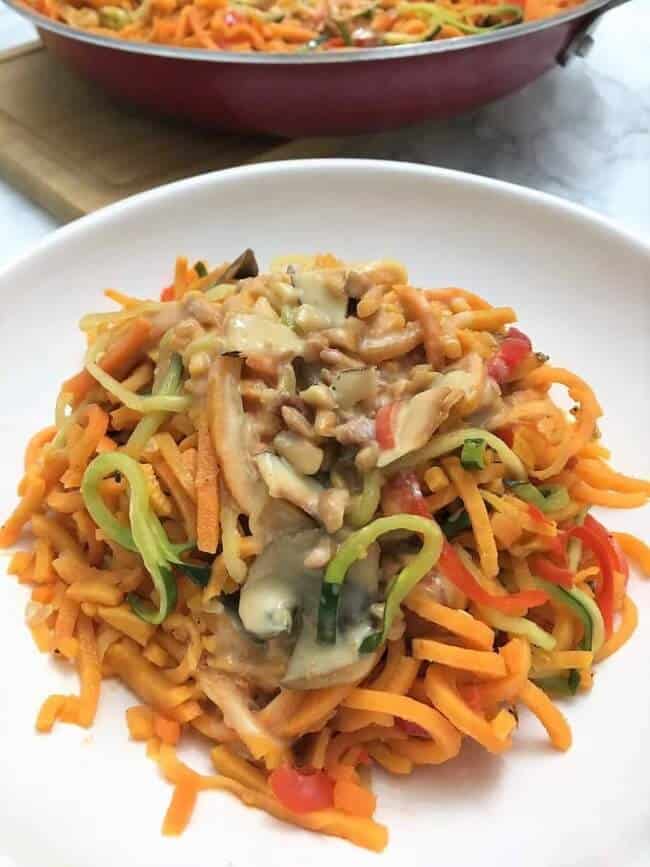 Quick overview
A creamy yet low-calorie dish of vegetable noodles smothered in coconut and peanut sauce.
Why we love it
It's a lighter version of the classic Thai dish that uses carrots, sweet potato, and zucchini instead of noodles. The creamy coconut peanut sauce tastes absolutely amazing! It's a great vegetarian lunch recipe that's ready in under 30 minutes.
About the author
'This Healthy Kitchen' is run by Rosa, a mom of two who started this blog to share her love of food and passion for healthy cooking. The online cookbook features recipes inspired by different cuisines using ingredients that will allow you to maintain a healthy and balanced diet.
Easy Vegan Mushroom Risotto with Green Peas by Natt Wrobel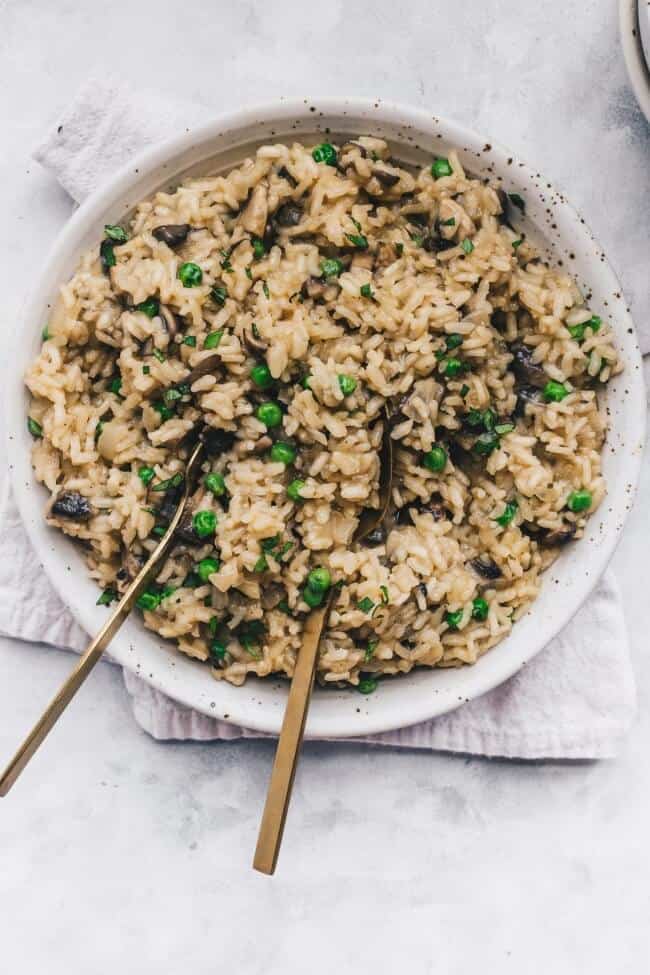 Quick overview
A hearty and creamy vegan risotto with mushrooms and peas.
Why we love it
We're all about meatless lunches these days, and we're glad to have found this vegan risotto recipe. It's using some of our favorite ingredients like onions, garlic, fresh mushrooms, and nutritional yeast that turn the risotto into an amazingly flavorful and creamy dish.
About the author
Natalia is the talent behind the picture-perfect recipes on NattWrobel.com that she develops, styles, and photographs herself. Expect to find lots of recipes using natural and wholesome ingredients that are sure to be a part of a balanced diet.
Brown Rice Bowl with Lemongrass, Tofu, and Cashews by Emily Han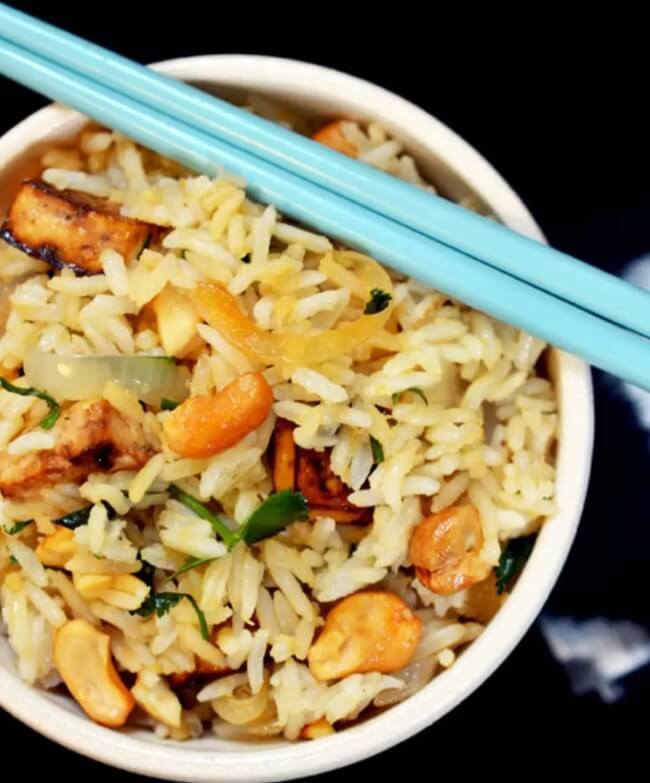 Quick overview
An Asian-style vegan rice bowl with tofu, cashews, and lemongrass.
Why we love it
Meals with brown rice don't have to be boring, and this recipe is anything but! It combines crunchy cashews with chewy baked tofu and adds flavor with zesty lime, ginger, lemongrass, and cilantro. It's a fresh and savory dish that makes a perfect protein-rich vegetarian lunch.
About the author
Emily is an herbalist, naturalist, and an experienced food and drink writer/recipe developer. To learn more about herbal medicine, homemade foods/drinks, and connecting to the natural world, follow Emily at emilyhan.com or on Instagram at @misschiffonade.
Mediterranean Baked Sweet Potatoes by 'Minimalist Baker'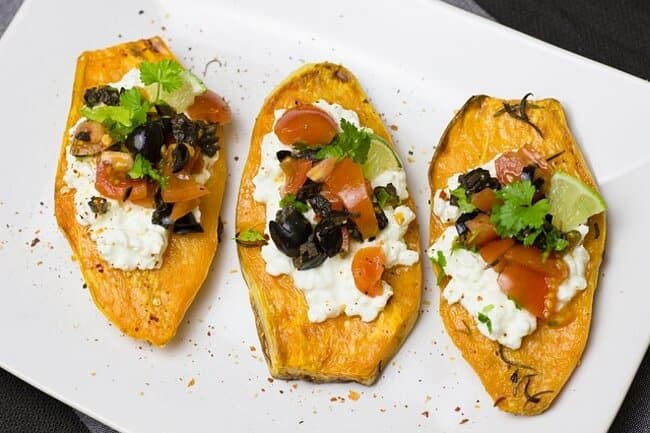 Quick overview
Sweet and savory Mediterranean-style baked sweet potatoes with roasted chickpeas and a garlic-herb sauce.
Why we love it
It makes a filling and delicious warm lunch that's ready in just 30 minutes. It doesn't use a lot of ingredients, but the tastes all blend together perfectly. The garlic sauce is divine, and the parsley-tomato salad adds a nice fresh touch.
About the author
'Minimalist Baker' is run by Dana, a recipe developer, writer, and food photographer who is also a published author and the creator of different online food blogging & photography courses. On the site, you'll find lots of plant-based recipes from hearty entrées to delicious mains and decadent desserts.
Healthy Lunch Sandwiches
Easy Chickpea Salad Sandwich by 'A Couple Cooks'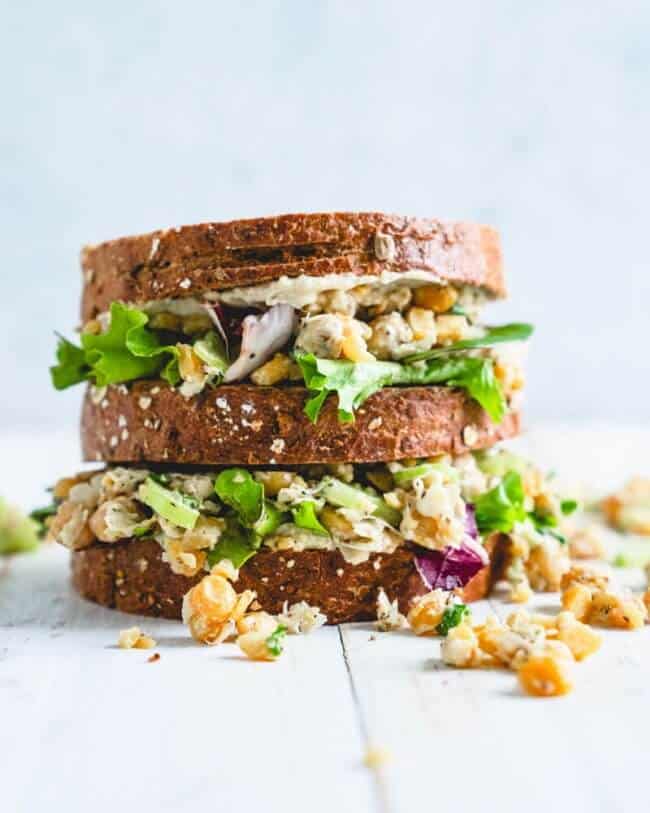 Quick overview
A vegetarian version of the yummy chicken salad sandwich using chickpeas to substitute the meat.
Why we love it
It's a simple and filling recipe that makes a delicious, healthy lunch sandwich. The best part? It's literally ready in only 10 minutes! We love that it uses celery, an ingredient we don't often use in our cooking ourselves. The celery adds a unique flavor that works super well with the rest of the ingredients.
About the authors
'A Couple Cooks' is run by Sonja and Alex Overhiser, published authors of 'Pretty Simple Cooking' who have been featured on the Today Show and online publications like the Washington Post, Oprah, and others. They are all about healthy and sustainable eating, and their recipes are inspired by seasonal produce and their adventures traveling the world.
Loaded Mediterranean Veggie Sandwich by 'Layers of Happiness'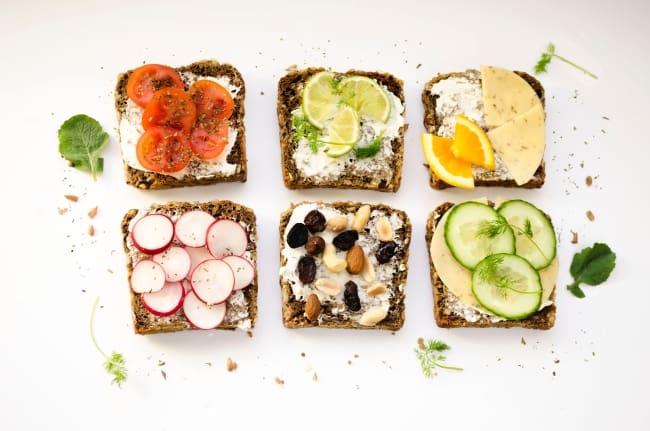 Quick overview
A delicious veggie sandwich with fresh vegetables, feta, hummus, and peppadew peppers.
Why we love it
The recipe uses two ingredients that add a unique taste to this easy-to-make lunch sandwich – Cilantro Jalapeno hummus by Trader Joe's and peppadew peppers. The sandwich made with whole grain bread is loaded with fiber, nutritious greens, and fresh vegetables, making it a filling and balanced meal for kids or adults alike.
About the author
Emily from 'Layers of Happiness' is all about inspiring people to live a happier and healthier lifestyle. She does that by sharing healthy and sometimes indulgent recipes that use whole seasonal ingredients. Follow her if you too believe in celebrating all things tasty!
Avocado Grilled Cheese Sandwich with Herbed Goat Cheese and Garlic by 'Well Plated by Erin'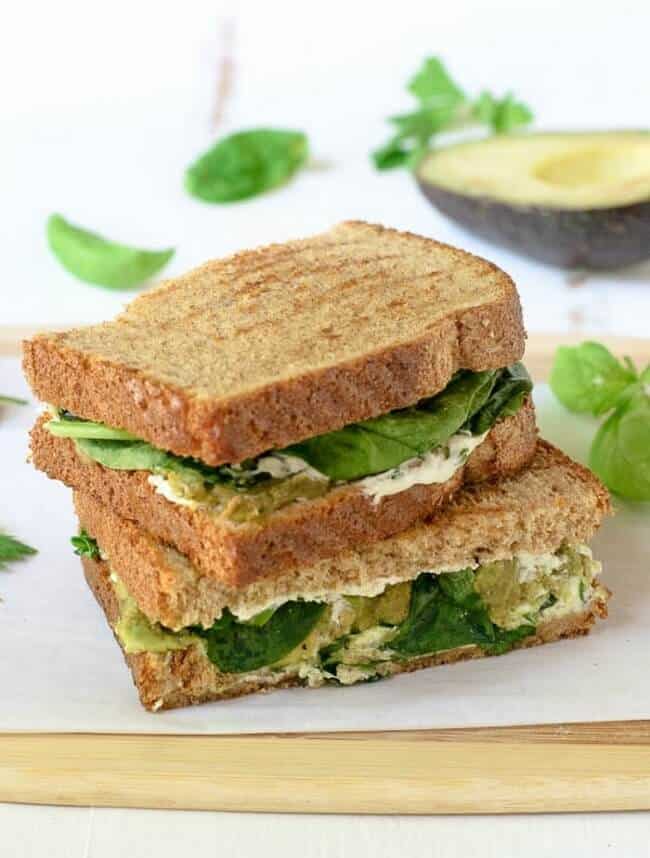 Quick overview
A luxurious but healthy grilled cheese sandwich with avocado, goat cheese, and fresh herb filling.
Why we love it
We love anything with avocado, and this grilled cheese sandwich is no exception! The goat cheese mixed with fresh basil and parsley tastes amazing on its own and would make a great vegetable dip too. But wait until you try the combination of the creamy cheese AND avocado – it is to die for!
About the author
'Well Plated by Erin' is a food blog full of recipes that use minimally processed seasonal ingredients that are balanced with healthy fats and whole grains. Erin shares easy and affordable recipes, as she believes delicious food should be accessible to everyone. You'll finds lots of healthy dinner recipes on the site, along with a mix of desserts, healthy breakfasts, sides, and more.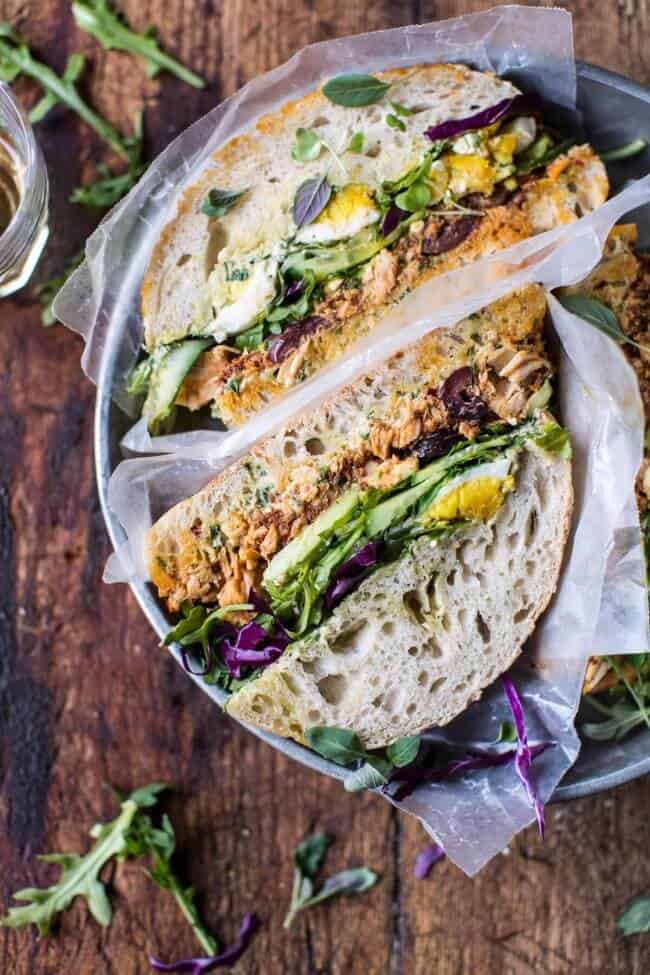 Quick overview
A super filling 8-layered lunch sandwich on ciabatta bread with avocado, tuna, egg, and olives.
Why we love it
The eight layers might sound like a lot, but the recipe is actually very simple to make. We love the home-made basil 'mayo' together with the freshly baked ciabatta bread. Bonus points for the olives and sundried tomatoes!
About the author
'Half Baked Harvest' is run by Tieghan Gerard, an award-winning food blogger who's been featured on the Food Network, Self Magazine, the Huffington Post, and more. She hopes to inspire a love for food in others, as well as the courage to try something new. Follow her for lots of American, South American, Asian, and European inspired recipes.
Wrapping It Up
Here you go – these are our favorite 21 healthy packable lunches at the moment. We hope you found some inspiration for your next meal!
If you want to submit your own recipe, please get in touch with us via the submit your recipe page.
Looking forward to reading your comments!