Imagine this: You open your fridge, starving, hoping to find something to eat (or at least inspiration for something to cook), but all you see are a few random things scattered on the shelves. There's no way you're going to run to the grocery store, and takeout just doesn't seem appealing either.
So what do you do? Make another sandwich and promise to go to the store tomorrow?
I'm here to tell you it doesn't have to be this way – a delicious meal could be just three ingredients away!
Yep, three ingredients (seasonings and oil don't count) are sometimes all it takes to make a delicious yet healthy meal.
Here are ten recipes you can try next time there is a dinner emergency.
Spaghetti Aglio e Olio
Ingredients: Spaghetti, garlic, Parmesan.
This classic Italian dish is as simple as it gets, but don't let that fool you into thinking it's bland. The magic lies in how you use these three ingredients.
Here's how to make it:
Cook your spaghetti as per the package instructions. In a separate pan, heat some olive oil and sauté minced garlic on low heat until it's golden brown.
This step is super important! If you undercook your garlic, you won't get the full flavor, but if you burn it, it gets bitter. Make sure you brown your garlic perfectly!
Then, toss the cooked spaghetti in this garlic-infused oil, transfer the mix to a plate, top it with grated Parmesan, and voila, your meal is ready!
Chickpea Salad
Ingredients: Chickpeas, cucumber, Italian dressing.
Who said salads have to be boring? This 3-ingredient chickpea salad is proof that they can be anything but.
To prepare this delicious salad, rinse and drain canned chickpeas and chop your cucumber into bite-sized pieces. Mix them together in a bowl and toss with your favorite Italian dressing.
This salad is not only refreshing but also packed with protein and fiber, making it a wholesome meal.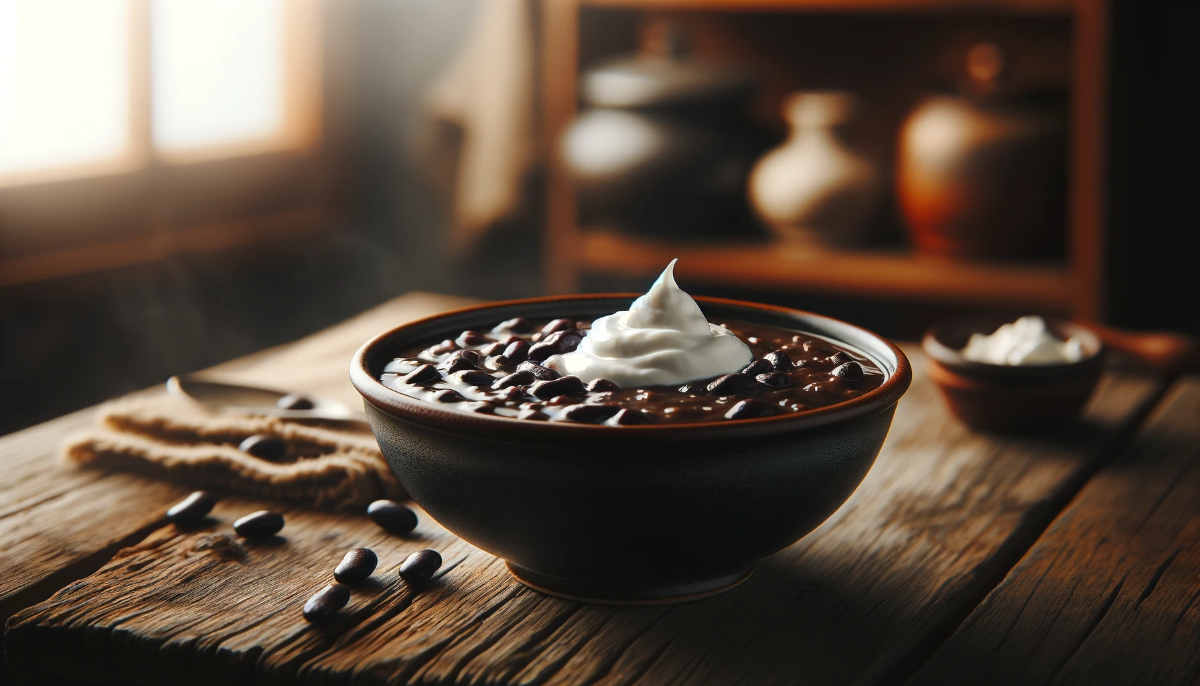 Black Bean Soup
Ingredients: Black beans, salsa, chicken broth.
This hearty soup is a perfect comfort meal that's also packed with protein and fiber.
To make this, heat the chicken broth in a pot and add canned black beans and your favorite salsa. Let it simmer until the flavors meld together. You can also blend it for a smoother texture.
Top your soup with some green herbs and sour cream or homemade croutons.
Baked Salmon with Asparagus
Ingredients: Salmon fillets, asparagus, lemon.
Want a fancy dinner without the hassle? Try this super easy baked salmon with asparagus.
Season your salmon fillets and asparagus with lemon juice, salt, and pepper. Bake them together in the oven until the salmon is cooked through and the asparagus is tender (about 15-20 minutes).
This meal is not only delicious but also rich in omega-3 fatty acids and vitamins, making it a healthy choice. Plus, you can replace both main ingredients for an entirely different meal!
Pesto Pasta
Ingredients: Pasta, pesto sauce, Parmesan.
Here's a quick and easy pasta dish that's sure to impress.
Cook your pasta as per the package instructions. Then, simply toss the cooked pasta with some pesto sauce and top it off with a generous sprinkle of Parmesan cheese.
This pasta dish is a delicious and satisfying meal that is often on our menu, too!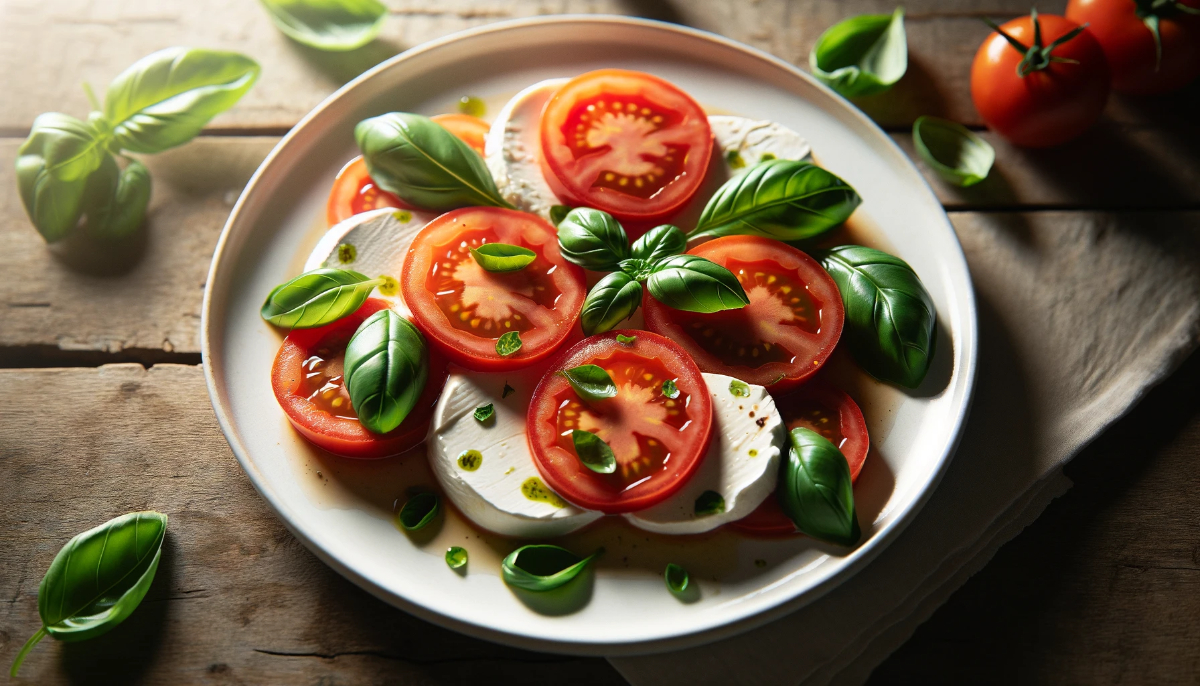 Caprese Salad
Ingredients: Tomatoes, mozzarella cheese, basil.
Experience the flavors of Italy with this simple yet incredibly tasty salad.
To prepare, slice the tomatoes and mozzarella cheese, then arrange them on a plate, alternating between a slice of tomato and a slice of cheese. Top each pair with a basil leaf, drizzle with olive oil, and season with salt and pepper.
The Caprese salad is not only a feast for the eyes but also a treat for the taste buds.
Egg-Fried Rice
Ingredients: Cooked rice, eggs, frozen peas (or other frozen veggies).
Turn your leftover rice into a scrumptious meal with this easy recipe. I make it pretty often, as I always have some leftover rice in the fridge.
To make egg-fried rice, scramble the eggs in a pan and set them aside. In the same pan, stir-fry the frozen peas (or other veggies) until they're cooked. Add the cooked rice and scrambled eggs, mix well, and season with soy sauce and other seasonings.
Tuna Patties
Ingredients: Canned tuna, breadcrumbs, eggs.
These tuna patties are a great way to add some variety to your meal plan.
Drain the canned tuna and mix it with breadcrumbs and eggs. If you don't have breadcrumbs at home, you can easily make them yourself.
Just tear some bread into small pieces and bake them in an oven on low heat until they're completely dried out. Then, drop them in your food processor and pulse a few times until you get the consistency you want.
Form the tuna-breadcrumb-egg mixture into patties and cook them in a pan until they're golden brown on both sides.
You can serve the patties with some salad, fries, or whatever vegetables you have in the fridge.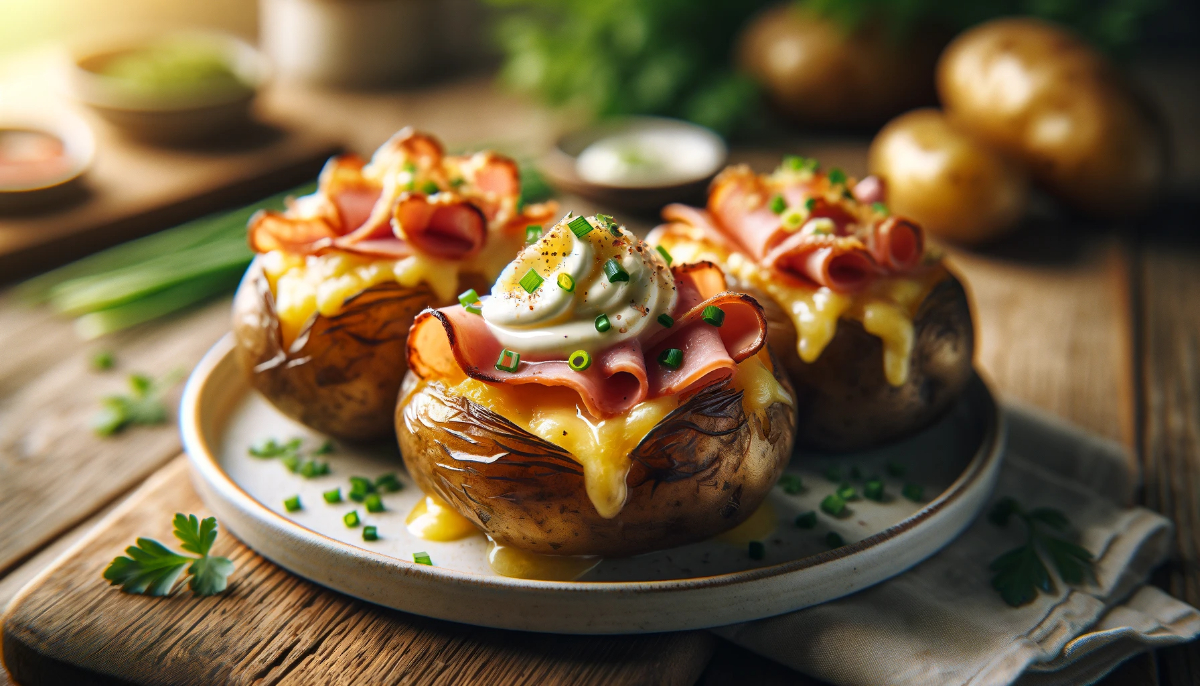 Baked Potatoes with ham and cheese
Ingredients: Potatoes, ham, cheese.
Nothing beats the simplicity and comfort of baked potatoes!
Preheat the oven to 180-200 degrees. Wash your potatoes thoroughly under running water using a brush. When washed and dried, place them on a baking pan.
Make 4-5 parallel cuts in each potato (about 2/3rds of the way down). Rub the potatoes with oil and season with salt and pepper, or sprinkle with your favorite herb seasoning.
Cook in the oven for about 45 minutes or until tender when pierced with a fork.
When the potatoes are ready, open the slits gently, and put a slice of ham and cheese in each slit. Cook for another 5 minutes in the oven until the cheese is melted.
Cheese Quesadillas
Ingredients: Tortillas, cheese, salsa.
These cheese quesadillas are a surefire hit and probably the easiest recipe to make from this list.
Place some cheese on a tortilla and fold it in half. Cook it in a pan until the cheese is melted and the tortilla is crispy.
Serve it with some salsa for an extra kick and any salad greens you have left in the fridge.
Try One of these 3-ingredient recipes today!
These 3-ingredient meals prove that cooking doesn't have to be complicated to be delicious. With just a few basic ingredients, you can whip up a variety of tasty and satisfying meals.
So, which one will you try first?