"It's the most wonderful time of the year" sings Andy Williams and I couldn't agree more. Despite it being dark, cold, and rainy all the time, I love December and the weeks leading up to Christmas. There's nothing better than sitting under a blanket in the warm glow of Christmas lights and burning candles.
It's beginning to smell a lot like Christmas too: I've got my first batch of gingerbread cookies baking in the oven as we speak!
Baking gingerbread from home-made dough has been a Christmas tradition in my family for as long as I can remember. Every weekend in December until Christmas Eve, my sister and I would sit around our kitchen table while our mother rolled out the beautiful brown dough.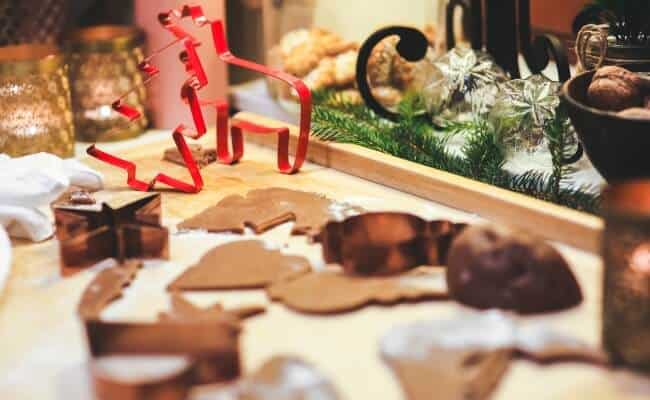 Once the dough was rolled (or what was left of it – Maris and I had usually eaten at least a third of it by then), it was our turn to cut out our favorite shapes. Soon, the stars and the hearts and the Christmas trees were baking in the oven and the irresistible smell of spices and sugar was filling the air… Even now, this magical smell takes me right back to my childhood and it is the main reason why I still make my own gingerbread dough.
Now, the traditional dough is very heavy – full of sugar, butter, and white flour. Since I'm all about making my foods healthier, I was happy to find this lighter version by SkinnyTaste.com. It tastes exactly like the real thing, except it's significantly lower in calories and fat.
Here's my modified version of the already healthy gingerbread dough recipe.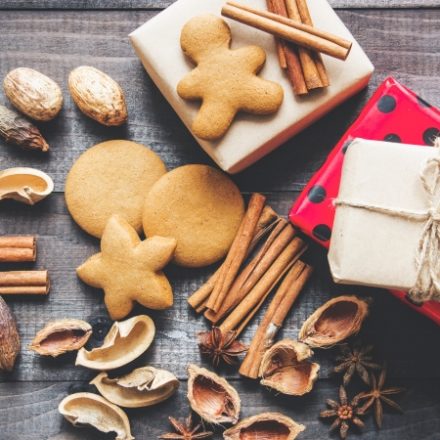 Low-Fat, Low-Calorie Gingerbread Cookies
The smell of baking gingerbread cookies always takes me back to my childhood and I want to share this irresistible scent of approaching holidays with you. Here's a healthy low-fat, low-calorie gingerbread dough recipe to try.
Equipment
2 medium-sized bowls

Whisk

Plastic wrap

Rolling Pin

Baking tray
Ingredients
3

tbsp

unsalted butter (softened)

3/4

cup

brown sugar

1/2

cup

home-made applesauce

1

egg

1/3

cup

agave syrup

3 1/3

cup

all-purpose wholemeal flour

1

tsp

baking soda

2

tsp

ground ginger

2

tsp

ground cinnamon

2

tsp

allspice
Instructions
In a medium-sized bowl, beat the butter, sugar, and applesauce until completely smooth.

Add the egg and agave syrup and stir well until combined.

In another bowl, mix wholemeal flour, baking soda, ginger, cinnamon, and spices. Add flour to the egg and sugar mix.

Knead the dough thoroughly until all ingredients are well combined. Then, wrap it in plastic wrap and refrigerate for at least two hours.

Preheat oven to 175°C (350°F). Dust flour over your working area, adding more whenever the dough starts getting stuck.

Roll the dough out, but be careful not to spread it too thin. Use your favorite cookie cutters to cut out suitable shapes.

Line the baking tray with baking paper and spread the cookies over it, keeping them a little bit apart from each other.

Bake for 10-12 minutes, or until golden-brown.
Notes
1. Combine wholemeal flour 50/50 with white flour for a smoother texture.
2. The dough comes out quite sticky, so make sure to dust your working area with plenty of flour.
3. The original recipe uses less cinnamon and allspice. I doubled the quantity because I'm a big fan of these healthy spices. You might find it too strong, so start with less – you can always add more.
4. The longer you keep the dough refrigerated, the more flavorful it will become. I kept mine in the fridge for five days before baking it.
5. Keep a close eye on the cookies; they may brown faster than you think! Mine were ready in 5 minutes.
Nutritional values may differ. Information provided by the Recipe Nutrition Calculator by VeryWellfit.com.