I love bananas. I eat them almost every day, and I always find a way to use them in many of my recipes, either smoothies, cookies, cakes, or desserts.
Today, I want to share with you my favorite recipe with bananas: a very healthy, but tasty and moist chocolate banana cake.
(Shh! This is a secret recipe, so keep it to yourself!)
Why do I love this recipe?
This banana chocolate chip cake is super easy to make, very healthy for a cake, and extremely yummy!
Other reasons to love it:
It's not overly sweet.
The bananas and Greek yogurt make the cake super moist and give it a nice chewy and dense texture.
The dark chocolate chips offer amazing chocolatey bursts with every bite.
Baking with whole wheat flour
Because whole meal flour has a coarser texture than refined white flour, the cake can come out a little bit drier too. Fortunately, there's an easy solution to this!
Just let the batter rest and hydrate for 10-20 minutes before baking! (Resting the batter will soften the whole grain, making your cake more tender and moist.) You won't believe the difference once you try it!
What makes this chocolate banana cake healthy?
It uses whole and natural ingredients like whole meal flour and bananas unlike traditional banana cake recipes that call for refined white flour and lots of sugar.
The cake isn't overly sweet as the recipe doesn't use any processed sugar at all. It is naturally sweetened with ripe bananas and honey (optional).
It uses healthy plant fats instead of butter. You can use olive oil, coconut oil, or vegetable oil.
It's not high in calories at only around 200 kcal per piece.
It's a balanced recipe in terms of macros – carbs, fats, and protein are all within the recommended US dietary guidelines.
Banana & Chocolate Cake Secret Recipe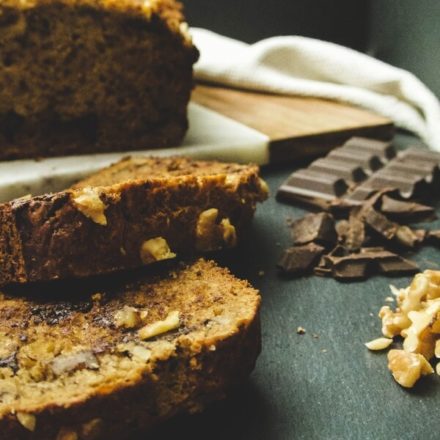 Healthy Banana and Chocolate Cake
Today, I want to share my favorite recipe with bananas: a tasty banana-chocolate cake that is super easy to make, very healthy for a cake, and extremely yummy!
Equipment
Small bowl

Large bowl

Whisk

Baking tray
Ingredients
3

large bananas (the riper the better!)

1 1/2

cup

whole wheat flour

1

tbsp

baking soda

1

tsp

vanilla extract

1/2

cup

Greek yogurt

2

eggs

1/2

cup

dark chocolate chips (70% cocoa minium)

1 1/2

tsp

olive oil
Instructions
Preheat your oven to 175°C (350°F)

Mash the bananas in a bowl

Mix flour, baking soda, and vanilla extract in a separate bowl

Add mashed bananas to the flour mix and stir until completely combined

Add the Greek yogurt and olive oil

Mix in eggs one by one and stir again

Pour into a baking tray and cover with baking paper

Bake for about 35 minutes at 175°C
Notes
Add a handful of walnuts for extra delicate crunch.
It's best to use dark chocolate chips for a darker and richer chocolate taste, but you can substitute them for milk chocolate buttons too.
I use choc chips because I love the chunks of chocolate in the cake, but you can also use natural coconut powder to make it extra chocolaty. Just replace 1/2 cup of flour with 1/2 cup of natural cocoa powder.
You may want to add a couple of tablespoons of honey or the cake may come out too bitter.
If your bananas are not ripe and soft yet, you can put them in a 150-degree oven for about 20 minutes to ripen them quickly.
You can add a scoop of protein powder to the batter to boost the protein content.Add a teaspoon of cinnamon to the mixture if you want some extra taste.
Nutritional values may differ. Information provided by the Recipe Nutrition Calculator by VeryWellfit.com.