Our flight to Sri Lanka is in just a few days, and we couldn't be more excited. It's finally time to relax! And since we're meeting up with friends we haven't seen in a long time, we know it's going to be an EPIC trip!
There's only one thing I'm slightly worried about: vacation weight gain.
I know, I know. An exotic once-in-a-lifetime holiday like this is no time to be thinking about my weight. The problem is, I get thrown off track very easily and I want to try at least to avoid the all-bets-are-off mindset I know will kick in as soon as I step out the door.
So,
How to avoid weight gain on vacation?
To answer that question, I spent a few days looking for strategies that could help me enjoy my getaway without completely ditching my healthy habits. And of course, I want to share them with you! Here are eight easy steps you can take to avoid gaining weight during your holidays.
UPDATE: April 23, 2019
Having written and published this article only seven months ago, I have since moved away from the dieting mindset and wanting to shrink my body. Gaining weight during that vacation was a legit fear, but I realize now it was fuelled by our society's obsession with dieting and being skinny at all costs.
I do understand people have different feelings about and goals regarding their health, weight, and bodies, so this article may be useful for some. But if you're struggling with weight and are getting ready for your next vacation, I urge you to look up the Health at Every Size (HAES) and Intuitive Eating movements that will teach you how to enjoy your holiday and not fear it!
#1 Be strategic about breakfast
We all know that breakfast is the most important meal of the day. It's also the perfect chance to set yourself up for a successful day.
When picking what to eat from the seemingly never-ending buffet table, try to be strategic about it. Imagine how certain foods are going to make you feel, instead of how they're going to taste.
Sure, those pancakes topped with maple syrup and whipped cream will taste delicious. They won't keep you full for long though, and the sugar rush will only make you tired and sluggish for the rest of the morning.
On the other hand, a balanced meal of hard-boiled eggs on whole-grain toast coupled with low-fat yogurt and fresh fruit will provide you with a steady flow of energy for hours to come.
If you can't resist, pick one treat you absolutely must try and then move on with your day.
#2 Bring healthy snacks
If your trip involves a lot of outdoor activities and you don't bring snacks, you'll end up completely ravenous by the time of your next meal. Or, if there's nothing healthy around, you might end up eating junk food like chips or cookies to compensate for the loss of energy.
Neither option is preferred as you'll either end up overeating later or consuming way more calories than you need.
To avoid these scenarios, plan ahead. Either bring nutritious homemade travel snacks with you or stock up on healthy foods like nuts, dried fruits, and protein bars when you arrive.
#3 Stay hydrated!!
Water is your friend when you go on vacation for many reasons.
For one, it can help avoid those late-afternoon energy slumps or dehydration headaches that could prevent you from enjoying your trip.
Secondly, when it comes to avoiding holiday weight gain, staying hydrated may help with that too:
We often mistake hunger for thirst and reach for the first available snack while we actually need a drink. Next time you feel hungry, have a couple of sips of water and see if that satisfies you. If yes, you just avoided consuming pointless calories!
Water also has the ability to create a feeling of fullness even if you haven't eaten a lot. Couple that with healthy snacks and you're good to go for at least a couple of hours.
#4 Try to stick to your normal meal schedule
It's understandable that you forget to eat as you start having fun, but as you can see, this could negatively affect your health and your weight.
To stay healthy throughout your trip, make a conscious effort to eat as often as you would at home. If you know you won't have time for a full meal, pack a bottle of water and a couple of healthy snacks with you. That way you do not end up binge eating dinner because you spent all afternoon exploring and forgot to eat.
#5 Pick only one cheat food per meal
Maintaining healthy eating habits doesn't mean you have to restrict yourself at every meal. But a vacation shouldn't be a free pass to eat high-sugar high-calorie foods all day, every day either.
When trying to keep fit, stick to only one cheat food per meal. That means choosing between a cocktail, dessert, or even freshly baked bread. Whatever you pick, make sure to really take the time to savor it.
If you're struggling with sticking to only one treat, that's okay too. Just pick one meal per day to splurge on calories and eat sensibly for the rest of the day.
#6 Turn your adventures into workout sessions
If you work out every day at home, there is no reason why your vacation should stop this routine.
Go for a run along the beach, a powerwalk along the nature trail, or a bike ride into the next town.
If you can't be bothered with real exercise, try to stay active throughout the day. Walk everywhere you can, rent bikes to explore the area or make time for some fun water activities such as snorkeling, kayaking, or surfing.
#7 Take advantage of your hotel's facilities
Many hotels have well-equipped gyms with decent cardio machines, different weight equipment, and TVs to pass the time. Even if you only workout for 20 minutes, it's totally worth it! Keeping up your workout routine can actually help you lose weight while on holiday.
Try to exercise first thing in the morning to set a healthy tone for the rest of the day.
#8 Don't forget to indulge (in moderation)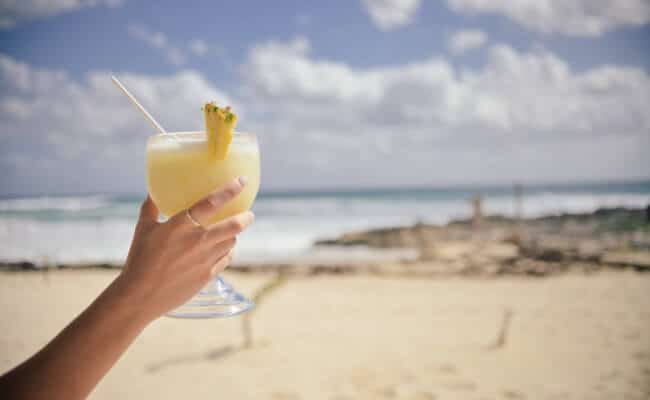 There's no harm in treating yourself while on vacation. That's what holidays are all about!
So go ahead, have that extra slice of cake and enjoy those cold cocktails on the beach – just make sure you do it mindfully and in moderation. That way your fun doesn't interfere with all your efforts to get and stay fit.
What secret tips do you use to avoid gaining weight during holidays? I'd love to hear your thoughts in the comments below!